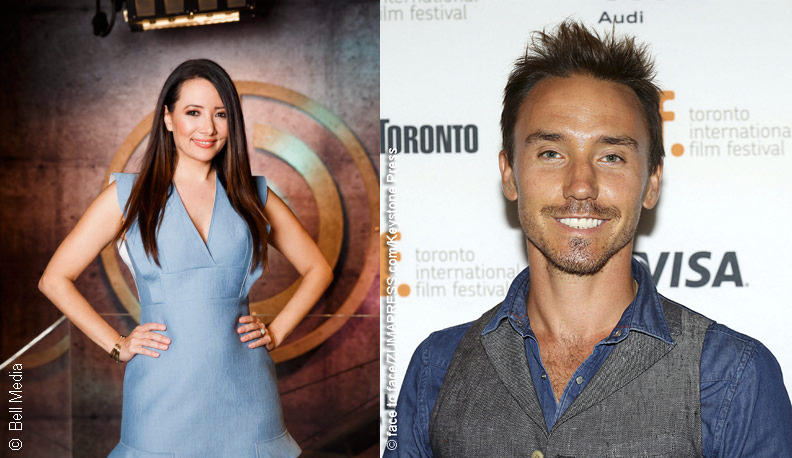 The first night of the Canadian Screen Awards were held on Tuesday at Toronto's Westin Harbour Castle. During the ceremony, 50 winners in non-fiction programming were recognized. The annual gala celebration was hosted by Miguel Rivas of The Beaverton.
Named after the late environmentalist and Sharkwater filmmaker, the Rob Stewart Award For Best Science or Nature Program or Series went to The Wild Canadian Year. The award, presented by Daily Planet co-host Ziya Ton, is presented annually to the team behind an exceptional Science or Nature Documentary program.
Rob Stewart focused on the importance and urgency of preserving the natural environment. This Canadian Screen Award comes with a cash award of $25,000 presented to the producer (series) or director and producer (program).
Rob Stewart's final movie, Sharkwater: Extinction, will release later this year.
Here is the complete list of 2018 Canadian Screen Awards non-fiction category winners:
Best Host or Interviewer in a News or Information Program or Series
CBC News: The Fifth Estate – Cross Lake: This is Where I Live – Gillian Findlay
Best News Anchor, Local
British Columbia Votes (CBC British Columbia) – Andrew Chang
Best Reportage, National
Global National – Ontario's Troubled Probation System – Mike Omelus, Dawna Friesen, Carolyn Jarvis
Best News or Information Segment
APTN Investigates – Against Their Will – Cullen Crozier, Holly Moore, Paul Barnsley
Best News or Information Program
Terror – Viceland (Rogers Media) – Suroosh Alvi, Bernardo Loyola, Peter Salisbury, Michael Kronish, Shane Smith, Eddy Moretti
Best Sports Analyst
Raptors Basketball on TSN – Jack Armstrong
Best Sports Feature Segment
Sound of Thunder – TSN (Bell Media) – Matt Dorman, Brent Blanchard, Devon Burns, Kevin Fallis
Best Sports Opening/Tease
2016 Grey Cup – TSN (Bell Media) – Craig Chambers, Devon Burns, Troy Hacock
Best Live Sports Event
Sponsor | Dome Productions – 2016 MLS Cup TSN (Bell Media) – Jim Panousis, Steve Abitrante
Best Sports Host
2017 TradeCentre – TSN (Bell Media) – James Duthie
Best Photography, News or Information
CBC News: The National – Dancing Towards the Light – Ed Ou, Kitra Cahana
Best Photography, Lifestyle or Reality/Competition
The Amazing Race Canada – Can I See Your Kuna? – CTV (Bell Media) – Ryan Shaw
Best Photography, Documentary or Factual
Abandoned – Newfoundland Coast – Viceland (Rogers Media) – Alex Craig, David Ehrenreich
Best Picture Editing, Documentary
Canada In A Day – CTV (Bell Media) – Nick Hector
Best Picture Editing, Reality/Competition
The Amazing Race Canada – Finale CTV (Bell Media) – Al Manson, Jonathan Dowler, Clare Elson, John Niedzielski, Jay Prychidny, Jordan Wood, Michael Tersigni
Best Picture Editing, Factual
Hello Goodbye – Lean on Me (CBC) – Derek Esposito
Best Children's or Youth Non-Fiction Program or Series
Science Max: Experiments at Large TVOKids – Nat Abraham, Michael McGuigan, Ira Levy, Peter Williamson, Joan Lambur, Phil McCordic, Leanne Brennan
Best Variety or Entertainment Special
P.K. Subban: Shots Fired (CBC) – Bruce Hills
Barbara Sears Award for Best Editorial Research
W5: Making a Terrorist (CTV/Bell Media) – Madeline McNair, Brennan Lefler, Victor Malarek
Barbara Sears Award for Best Visual Research
League of Exotique Dancers (Documentary Channel/CBC) – Erin Chisholm
Best Writing, Factual
Still Standing – Fort McMurray (CBC) – Jonny Harris, Fraser Young, Steve Dylan, Graham Chittenden
Best Writing, Lifestyle or Reality/Competition
The Amazing Race Canada – We Just Saw Johnny Mustard (CTV/Bell Media) – Mark Lysakowski, Jennifer Pratt, Rob Brunner
Best Writing, Documentary
Unstoppable: The Fentanyl Epidemic (CBC) – Robert Osborne
Rob Stewart Award for Best Science or Nature Documentary Program or Series
The Wild Canadian Year (CBC) – Jeff Turner, Sue Turner, Caroline Underwood
Best Biography or Arts Documentary Program or Series
Rush: Time Stand Still (HBO Canada/Bell Media) – Allan Weinrib, Pegi Cecconi, Ray Danniels, John Virant, Corey Russell
Best Factual Series
Mayday (Discovery Channel/Bell Media) – Alex Bystram, Kim Bondi, Martin Pupp
Best History Documentary Program or Series
The Nature of Things with David Suzuki: Lost Secrets of the Pyramid (CBC) – Alan Handel, James Hyslop, Carlo Massarella, Dan Kendall
Best Documentary Program
RISE (Viceland/Rogers Media) – Michelle Latimer, Tania Natscheff, Bernardo Loyola, Patrick McGuire, Heather Rae, Michael Kronish, Spike Jonze, Eddy Moretti, Shane Smith
Gordon Sinclair Award for Broadcast Journalism
Karyn Pugliese
Best Original Music, Non-Fiction
Sponsor | YANGAROO
The Secret Path (CBC) – Gord Downie, Kevin Drew, Dave Hamelin
Best Sound, Non-Fiction
Where The Universe Sings: The Spiritual Journey of Lawren Harris (TVO) – Sanjay Mehta, Ian Rodness, Steve Blair, Dustin Harris
Best Production Design or Art Direction, Non-Fiction
Big Brother Canada – Finale (Global/Corus Entertainment) – Peter Faragher, Kevin Halliday, Aaron Scholl, Andy Roskaft
Best Direction, Live Sports Event
2016 MLS Cup (TSN/Bell Media) – Richard Wells
Best Direction, Lifestyle or Information
Canada Day 150! From Coast to Coast to Coast (CBC) – David Russell
Best Direction, Reality/Competition
The Amazing Race Canada – Finale (CTV/Bell Media) – Rob Brunner
Best Direction, Documentary or Factual Series
Real Vikings: Viking Women (History/Corus Entertainment) – Rebecca Snow
Best Direction, Documentary Program
Canada In A Day (CTV/Bell Media) – Trish Dolman
Best Host in a Live Program or Series
Sponsor | Corus Entertainment
Canada Day 150! From Coast to Coast to Coast (CBC) – Rick Mercer
Best Talk Program or Series
The Marilyn Denis Show (CTV/Bell Media) – Michelle Crespi, John Simpson
Best Lifestyle Program or Series
Sponsor | Corus Entertainment
Property Brothers (HGTV/Corus Entertainment) – Gerard Barry, Drew Scott, Jonathan Scott, Kim Bondi, Jessica Vander Kooij
Best Live Entertainment Special
The JUNO Awards 2017 (CTV/Bell Media) – John Brunton, Barbara Bowlby, Randy Lennox, Allan Reid, Mark Cohon, Lindsay Cox, Pam De Montmorency, Tracy Galvin, Kristeen Von Hagen, Luciano Casimiri, Mark Vreeken, Howard Baggley, Simon Bowers, Doug McClement, Alex Nadon
Best News or Information Series
CBC News: The Fifth Estate (CBC) – Jim Williamson, Julian Sher
Best Host in a Program or Series
Your Special Canada (CBC) – Jonathan Torrens
Best Local Newscast
CBC News: Vancouver at 6 – Alexandra Gibb, Joan Marshall, Eric Rankin, Natalie Clancy, Amar Parmar
Best National Newscast
CTV National News with Lisa LaFlamme – Lisa LaFlamme, David Hughes, Rosa Hwang, Allan Myers, Allan Black
Best News Anchor, National
CBC News Network with Heather Hiscox – Heather Hiscox
Best Reportage, Local
CBC News: Vancouver at 6 – Kati's Story (CBC British Columbia) – Eric Rankin, Cliff Shim, Amar Parmar
Best News Special
Fort McMurray: The Road Back (Global Edmonton/Corus Entertainment) – Deb Zinck, Kerry Powell, Darcy Craig, Christine Meadows, Kent Morrison, Fletcher Kent
Best Sports Play-by-Play Announcer
2016 MLS Cup (TSN/Bell Media) – Luke Wileman
Best Sports Program or Series
Aaron Sanchez – Limitless (Sportsnet/Rogers Media) – Paul Sidhu, Stephen Brunt, Elia Saikaly, Mark Wade, Marc LeBlanc