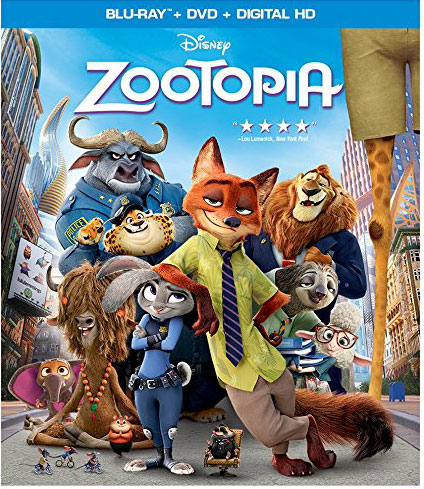 Synopsis: In the animated hit film Zootopia, a young bunny named Judy Hopps (voice by Ginnifer Goodwin) is adamant that she wants to be a police officer, even though no one thinks a tiny prey animal can make it as a cop. Nonetheless, this determined little bunny graduates at the top of her class from the Zootopia Police Academy. She moves to the big city of Zootopia, where prey and predators all get along.
Unfortunately, the burly police captain decides to put her on meter maid duty. Although dismayed, she decides to be the best meter maid ever. When he tells her to give out 100 tickets a day, she decides to give out 200 by noon.
Things heat up when she spots a fox named Nick Wilde, who seems to be up to no good. She follows him and although he seems to be legit at first, he may have a trick or two up his sleeve. And when she discovers that 14 animals have gone missing from Zootopia, including an otter whose wife is desperate to find him, Judy decides she's the one to solve the case.
Senior editor Alexandra Heilbron watched the Blu-ray and Assistant editor Marriska Fernandes watched the DVD, then joined up to compare their thoughts on the film.
Combined Star Rating: 5 Stars
Alexandra: I'm not usually a fan of animated movies. But this film is a huge exception. In my opinion, it's a nearly perfect film. I watched it twice within just a few days and loved it just as much the second time.
Marriska: I like animated movies myself. Ever since I watched the trailer, I really wanted to see the movie and the film exceeded my expectations for sure.
Alexandra: I really liked how what happened in the beginning, when the kids put on a school play, later is tied in at the end. I watched the special extras and the original idea for the movie was very different, so it's obvious the filmmakers put a lot of thought into this and the way it ended up makes for a bigger impact.
Marriska: That's interesting, I didn't tie that in when I was watching it. What I liked best was how it brings up important issues such as prejudice and discrimination, with the prey animals still being wary of the predators. I also really liked the way the film tackled stereotypes because kids who may not be aware of these kinds of issues yet will eat up the movie in delight, while adults will also enjoy the deeper meaning.
Alexandra: I love the light moments in the film, like when Nick meets Assistant Mayor Bellwhether, who's a sheep, and they're discussing something important but he can't get over how fluffy her head is and tries to touch it without her noticing. Also, when Nick and Judy have a falling out, and then she begs his forgiveness and he teases her, saying, "You bunnies are so emotional." The banter between Nick and Judy was the highlight of the movie for me.
Marriska: I loved the mix of characters in the film. One of my favorite scenes has to be Judy and Nick's encounter with the good ol' sloths at the DMV. This scene cracks me up every time.
Alexandra: That's funny, because for me, that was my least favorite scene. People who take a long time to do something drive me crazy so I really empathized with Judy. Was anything you didn't like?
Marriska: I wasn't crazy about Officer Benjamin Clawhauser (Nate Torrence). He and his donuts (especially when Judy finds one in his neck) and the way he's always on his phone playing with apps, I felt his character was almost unnecessary.
Alexandra: Really? He was my favorite character after Judy and Nick. I loved when Judy found the donut and how upbeat and jovial he is. Also his obsession with pop star Gazelle was endearing.
Marriska: I think adults will appreciate the cheekiness of scenes such as The Godfather reference or dare I say, nude elephant land?
Alexandra: Those are the only other things I wasn't that crazy about. But I loved Nick's backstory, I like that we're let in on how he became the way he is. I watched the special features and found out he was supposed to be the main character, but because he's a cynic, the movie got too dark, so they switched it to have Judy be the lead. It was a great decision, because she's so full of joy and hope for the future.
Marriska: Yeah, he's supposed to be a predator but ends up drawing sympathy from the audience – it breaks the stereotype of thinking all foxes are just sly creatures. It was one of my favorite lessons in the movie, how Nick changes through the movie. He's not what we think he is at the beginning of the movie.
Alexandra: He also reminded me of Baloo the bear (voiced by Bill Murray) from The Jungle Book, I was wondering if Jason Bateman, who provided Nick's voice, was somehow channeling Bill Murray.
Marriska: I did notice that as well. Jason did an amazing job with the voice.
Alexandra: What did you think about the the Disney inside jokes, like the posters for the pirated DVDs that were for Disney movies — Pig Hero 6 (Big Hero 6), Wrangled (Tangled), Wreck-It Rhino (Wreck-It Ralph), even Meowana (the upcoming Moana). There was also a reference to Frozen that made me smile.
Marriska: I thought that was funny, it was a smart touch on Disney's part.
Alexandra: It felt like a perfect length as well. At 108 minutes, it's the second-longest Disney film after Fantasia, but it didn't seem long at all and I'm very much looking forward to a sequel.
Marriska: Ditto, I didn't think it was long at all, I wouldn't have minded if it was longer.
Alexandra: To sum it up, it's obvious why this film has earned over $1 billion worldwide. It's equally entertaining for kids and adults – I never felt at any time that it was talking down to anyone, I never thought any of the scenes were juvenile, it was just really clever and heartwarming. Because I had the Blu-ray version, I had access to more special features and I found out it took four years and 600 people to make. They also had deleted scenes, some of which were almost complete and some of which were just in the beginning stages of being sketches. It gave me a little more insight into what goes into making an animated feature. Do you want to give your rating of Zootopia?
Marriska: I give it a five star rating — in my books it's as good as some of my favorite animated classics, such as Finding Nemo, Frozen, The Lion King, Monsters Inc. and Despicable Me. It surpassed my expectations and easily takes home the best animated film trophy in my books. I say Oscar material, hands down.
Alexandra: I give it five out of five as well, I'd have to say this is now my all-time favorite animated film.