Andy Garcia Biography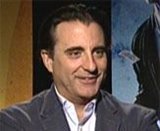 Born: April 12, 1956

ANDY GARCIA
Date of Birth: April 12, 1956
Born Andres Arturo Garcia-Menendez, actor Andy Garcia was five when he fled with his family to Miami from his native Cuba. Andy was born as a conjoined twin, but unfortunately, his twin did not survive. Garcia bears a scar on his shoulder as a reminder.
Following his graduation from Florida International University, he spent several years performing in regional theater productions before moving to Los Angeles in the late 1970s. Garcia briefly performed as a stand-up comic in his early Los Angeles years, working as a furniture expediter and waiter when jobs were scarce.
While his TV debut was a small role in the 1981 pilot of Hill Street Blues, Garcia was soon to enter the field of films landing a role in Blue Skies Again (1983), which was shot not too far from his hometown in Florida. It was not until he was cast as a drug kingpin in 8 Million Ways to Die that Garcia's career really took off. He struck gold again in his role as Michael Corleone's hot-headed nephew in The Godfather Part III (1990), a role for which he won a Best Supporting Actor Oscar nomination.
He has also been honored with the Harvard University Foundation Award for his outstanding contributions to the American Performing Arts and Intercultural Relations, with a star on the Hollywood Walk of Fame, and recently with a Hispanic Heritage Award for the Arts.
After several years of "on the edge" characters, Garcia softened his screen image such as the too-good-to-be-true characters such as the husband of alcoholic Meg Ryan in When a Man Loves a Woman (1994) and the bum, John Bubber, in Hero (1992).
Though Garcia has indeed found his place in American cinema, he feels a deep connection and loyalty to his Cuban heritage and has more recently become involved in projects that reflect that sentiment. He produced and directed a documentary tribute to Cuban mambo artist Cachoao entitled Cachoao... Like His Rhythm There is No Other (1993), as well as directing and starring in The Lost City (2006). He can be seen playing a CIA operative-turned-talk show host in the action thriller A Dark Truth (2013), a film he also worked on as an executive producer. He followed this up by starring in Rob the Mob (2014) and lending his voice to Rio 2 (2014).
Garcia then starred in the comedy reboot Ghostbusters (2016), the action comedy The True Memoirs of an International Assassin (2016), the thriller Headlock (2016), and the sci-fi adventures Max Steel (2016) and Passengers (2016).

He can most recently be seen in films such as Geostorm (2017) and the sequel, Mamma Mia! Here We Go Again (2018).
A devoted family man, Garcia lives with his wife, Maria Victoria, and their four children. He is known for refusing to do nude scenes and has even walked out of an audition when asked to remove his shirt.