Anna Paquin Biography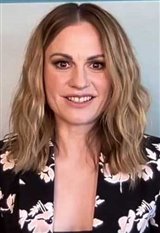 Born: July 24, 1982

With a well-developed vocabulary and gentle sense of humor, Anna Paquin was an enchanting young child star during her early days in show business.
Anna was born in Winnipeg, Manitoba, but her parents, both teachers, moved to New Zealand, and so at age six she traveled down under. Anna admitted she never set out to be an actress. "I wanted to be Prime Minister of New Zealand," she recalled, with a laugh. "Or failing that, a lawyer. The courtroom type—that always seemed like it would be fun."
The youngest of three, Anna made her stage debut in the coveted role of a skunk in a grade school play.
After attracting attention for her work in a TV commercial, Anna was selected from 5,000 applicants to portray Holly Hunter's precocious daughter in director Jane Campion's dour period piece The Piano. The film was completed in 1992 when Paquin was nine. She kept busy for the next year or so in a series of American TV ads for a computer company, portraying an androgynous "young DaVinci" type.
In 1994, an amazed 11-year-old Anna rushed onto the stage at the Academy Awards to accept the Best Supporting Actress award for her performance in The Piano. "I was in a state of shock," she admitted. "I thought I was going to sit in the audience, going clap, clap, clap with everyone else while some other actor went up to get the award. Instead, I was the one going up there, in front of hundreds of people." She became the second youngest person to win a Best Supporting Actress Academy Award, after Tatum O'Neal, who was 10 when she won for Paper Moon in 1974.
Shortly after the awards, Anna appeared in two more starring roles, playing Young Jane in the film Jane Eyre (1996) and goose-loving Amy Alden in Fly Away Home(1996).
Anna then made a cameo in Stephen Spielberg's Amistad (1997). While filming the movie in Montreal, she made a side trip to Toronto to film five TV commercials for a telephone company from her old hometown Winnipeg. Anna delivered the commercials in a variety of costumes in a Canadian accent, rather than her New Zealand one.
After completing A Walk on the Moon, Anna took a one year hiatus to consider her future. By 1998 her decision was made. During that year, she graduated to her first adult role in Hurly Burly. This adaptation of David Rabe's well-known play about the intersecting lives of several Hollywood players and wannabes included Paquin's first nude scene. But due to the U.S. laws against minors in sex scenes, a double was sent in Anna's place to complete the scene.
In 1999, she appeared in the romantic comedy She's All That. The next year, she came out with three films, Almost Famous, Finding Forrester, and the sci-fi hit X-Men. Since then, she has reprised her role as X-Men's Rogue in the sequel X2: X-Men United (2003) and X-Men: The Last Stand (2006).
In 2008, Anna was cast in the starring role of Sookie Stackhouse on the HBO series True Blood, which went on to become an enormous hit. On August 21, 2010, she married British actor Stephen Moyer, who played her vampire boyfriend on the show. In September 2012 she gave birth to their twins: Charlie Moyer and Poppy Moyer.
Since True Blood came to an end in 2014, Anna has starred on WGN's eight-episode drama series Bellevue in 2017 and played Nancy Montgomery on the CBC/Netflix mini-series Alias Grace (also 2017), based on the book of the same name by Margaret Atwood, which in turn is based on true events.
In 2019 Anna played starring roles on two TV series: Amazon Prime Video's Flack and Showtime Network's The Affair. She also played Robert De Niro's daughter Peggy Sheeran in the Netflix film The Irishman (2019), which had a limited release in theaters before debuting on the streaming network.
In 2021, the second season of her dark comedy series Flack released.
In her spare time, Anna, who is a vegetarian, plays cello and piano and enjoys listening to alternative music.