Anthony Russo Biography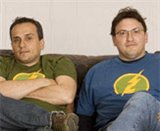 Born: February 03, 1970

Date of Birth: February 3, 1970
Anthony Russo and his brother Joe Russo were raised in Cleveland. Their student film, Pieces (1997), caught the attention of Academy Award-winning director Steven Soderbergh after he saw it at the 1997 Slamdance Film Festival. Pieces, a comedy about three crazed Italian brothers in a failing Cleveland hairpiece business, left such an impression on Soderbergh that he called them a week later, telling them that he wanted to produce their next project. He asked them whether they wanted to direct their own material, or if they wanted him to connect them to another screenplay. The Russos told him they would prefer to direct their own script and over the next couple of years they wrote intensely, finally coming up with the screenplay Welcome to Collinwood (2002).
In the meantime, Soderbergh and George Clooney had formed their Section Eight production company, and they bought the rights for the Russos' first movie. The Russos were moved by the films they'd seen set in the Great Depression and were inspired to create their own ensemble comedy about hard luck neighborhoods and the desperate situations of the people who lived there.
The brothers tried their hand successfully at television, directing the pilot episode of LAX as well as several episodes of the hit series Arrested Development before returning to the big screen with You, Me and Dupree (2006), starring Owen Wilson and Kate Hudson.
Recently, the two have co-directed the Captain America movies Captain America: The Winter Soldier (2014) and Captain America: Civil War (2016). Continuing with that superhero theme, their newest directing credit will be Avengers: Infinity War (2018).