Avery Brooks Biography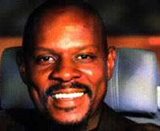 Born: October 02, 1948

Born to a musical family in Evansville, Indiana, Avery Brooks moved to Gary, Indiana where he grew up listening to and singing jazz as his mother played piano and organ, while his father sang in the gospel group Wings Over Jordan. He attended and graduated from Rutgers University in New Jersey, with a Masters of Fine Arts in acting and directing. Not willing to part from school entirely, Avery became a professor for Drama-Science at Rutgers in 1972, an honor he wouldn't give up until 1985.
Following school, Avery began working in theater, landing numerous roles including the starring role in Othello, Tesus and Oberon in A Midsummer Night's Dream, Malcom X in The Life and Times of Malcolm X, and a number of other roles in such plays as The Offering, The Talented Teeth, Fences, Pantomime and Boogie Woogie Landscapes.
In 1984, he began a 15-year career in television starting with the telefilm, Solomon Northrup's Odyssey, as Solomon Northup. One year after he began, he landed a starring role for the series, Spencer: for Hire. Playing Hawk beside Robert Urich's Spencer, the show became popular with audiences, lasting four years.
After the final show of Spencer, Avery remained in television, working on more telefilms and series. In 1992, he once again grabbed a long lasting role on a series destined to be popular, Star Trek: Deep Space Nine. Playing the star fleet commander (later turned captain) Benjamin Sisko, the show would go on for years ending in 1999, and even gave Brooks the chance at directing for the first time. It would also garner him two Image Award nominations for best Actor in a drama series.
The educational circle had not forgotten Avery, for in 1994 he was inducted into the College of Fellows of the American Theater. That same year he became the Artistic Director of the National Black Arts Festival in Atlanta, Georgia. Two years later he was given an Honorary Doctorate in Fine Arts from Oberlin College, and after two more years he was given an Honorary Doctorate in Fine Arts from Buffalo State University.
Following the successful run of Deep Space Nine, Avery went on to work on a number of feature films including The Big Hit (1998), American History X (1998), and 15 Minutes (2001). He would also spend much of his time behind the camera, not as a director, but as a narrator for various films and television specials like Quest for Life and Walking with Dinosaurs.
In 2003, he stopped appearing in film and television, but continued to do theater. In 2009, he released his first album, "Here," which revisits jazz and blues pieces.
Avery married in 1976 and has three children with his wife Vicki.