Bebe Neuwirth Biography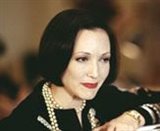 Born: December 31, 1958

Birth Name: Beatrice Neuwirth
Date of Birth: December 31, 1958
A native of Newark, New Jersey, Bebe was the daughter of a mathematician father and an artist mother. Bebe always wanted to be a dancer and began to train when she was five at The Julliard School. There, she trained for a musical career, and her diligence paid off with a stellar Broadway career appearing in A Chorus Line and Damn Yankees (as well as the 1992 revival of Damn Yankees).
Bebe's biggest fan following rests upon her frequent appearances between 1986 and 1992 as Dr. Lilith Sternin-Crane, the uptight, politically correct psychologist wife of Frasier Crane on the long-running comedy series Cheers, a role that won the actress Emmys in both 1990 and 1991. The role unfortunately stuck to Bebe, who at times will get called by her character name rather than her own. "I don't like to be called Lilith on the street; I'll actually ignore someone who does that, unless I feel they might hurt me. I don't like to be recognized. And I'll say 'no' if people ask, 'are you...?'—especially if it's going to cause a scene or somebody is trying to win a bet. It can be completely dehumanizing, and I'm way too sensitive." In 1992, she requested that her character be written out of Cheers so that she could focus her energies on feature film work.
Though Lilith divorced Frasier during the course of Cheers, Bebe did return as the character in a couple of Kelsey Grammer's spin-off sitcom Frasier. Yet through her many roles, she has proven time and again that can portray a wide variety of characters.
Through the '90s she has successfully balanced work in television, film and theater, but it is on stage where she has received the accolades she deserves. For her performance in the 1997 production of Chicago, she won Best Actress in a Musical, Most Outstanding Actress in a Musical, Best Female Dancer, and Most Distinguished Performance. However, she often returns to both the big and small screens, playing a regular role as A.D.A. Tracey Kibre on Law & Order: Trial by Jury and playing supporting roles in films such as How to Lose a Guy in 10 Days (2003), The Big Bounce (2004) and Fame (2009).
However, she's best known for her TV work, as evidenced by the many TV movies she's taken part in, as well as series such as Madam Secretary (2014 to 2017) and Blue Bloods (2013 to 2019).
In 1982 Bebe met theater director Paul Droman, and in 1984 they were married. The two remained together for seven years before the marriage ended in divorce in 1991. In 2009 Bebe married Chris Calkins.