Ben Barnes Biography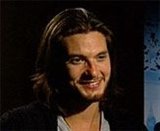 Born: August 20, 1981

Date of Birth: August 20, 1981
Ben Barnes was born and raised in England and entered the acting world by playing small roles on the British television shows Liquid New, Making Up Your Mind, Doctors, and Split Decision. While trying to catch his acting break, Barnes attended Kingston University where he graduated with a degree in English and Drama.
In February 2007, Barnes accepted the role as Caspian in The Chronicles of Narnia: Prince Caspian. This posed a problem for The Royal National Theatre as Barnes had to leave his role as Dakin in the production of The History Boys.
In preparation for The Chronicles of Narnia: Prince Caspian Barnes spent time in New Zealand horseback riding, stunt training, and acquiring a Spanish accent. He returned for the sequel, The Chronicles of Narnia: The Voyage of the Dawn Treader (2010).
Barnes has also appeared in Easy Virtue (2009) and played the title role in Dorian Gray (2009). Most recently he appeared in The Big Wedding alongside Robert De Niro and Diane Keaton.