Brian Helgeland Biography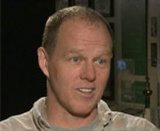 Born: January 01, 1961

Date of Birth: 1961
Born in Providence, Rhode Island, Helgeland graduated from Loyola Marymount University in Los Angeles. Taking an unusual road to film, Helgeland first became a commercial fisherman in New Bedford, Massachusetts after school. In 1985, he was caught in a big storm on the sea, and the experience convinced him to change his career.
A year later he moved to Los Angeles and started writing screenplays. Hitting on the horror genre, his early scripts include Nightmare on Elm Street 4 and Highway to Hell.
In 1997, he left his signature horrors behind and worked with director Curtis Hanson to complete the thriller, L.A. Confidental. The film proved to be a success, earning Helgeland his first nomination from BAFTA and the Golden Globes, and an Oscar win for Best Screenplay. The script was also awarded honors from festivals and film societies around the world. That same year, he also had two other screenplays filmed, Conspiracy Theory starring Mel Gibson and Julia Roberts, and The Postman starring Kevin Costner, but neither film compared with the success of L.A. Confidential.
He decided to take on a different role behind the camera in 1999 as a director with his script Payback, which brought him together again with Mel Gibson. This film proved to be a successful at the box office, and Helgeland decided to follow up with the action / adventure A Knight's Tale (2001), starring Heath Ledger. He next worked with Heath Ledger again in the thriller The Order (2003), which he wrote, directed and produced.