Cate Blanchett Biography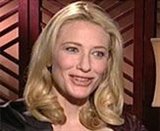 Born: May 14, 1969

Born and raised in Australia, Cate Blanchett graduated from Australia's National Institute of Dramatic Art. She is a long-standing member of Company-B, a loose ensemble of actors including Geoffrey Rush, Gillian Jones and Noah Taylor based at Belvoir Street in Sydney under the direction of Neil Armfield.
With this company her performances include Miranda in The Tempest, Ophelia in Hamlet and Nina in The Seagull. For the Sydney Theatre Company, Blanchett appeared in Caryl Churchill's Top Girls and David Mamet's Oleanna, winning the Sydney Theatre Critics Rosemount Award as Best Actress. Other Australian stage appearances include Kafka Dances, Sweet Pheobe and The Blind Giant is Dancing. Most recently, Blanchett played Susan Traherne in the Almeida Theatre 1999 West End revival of David Hare's Plenty directed by Jonathan Kent. Blanchett's television credits include lead roles in the mini-series Heartland and Borderland, both for the Australian Broadcasting Commission.
Cate made her film debut in 1994 in Police Rescue followed by the starring role as Rosie in Parklands (1996). She appeared in the Australian comedy Thank God He Met Lizzie (1997), for which she won an Australian Film Institute Award for Best Supporting Actress, and appeared in Bruce Beresford's Paradise Road, co-starring with Glenn Close. The same year she received critical acclaim for her performance opposite Ralph Fiennes in Gillian Armstrong's Oscar and Lucinda. In 1998, Cate won accolades in both Europe and America for her performance in the title role of Elizabeth. For her work in the film, Cate was honored with a Golden Globe Award for Best Actress (Drama) and a BAFTA Award as well as receiving nominations from the Academy Awards and Screen Actors Guild.
Cate started the new millennium with a variety of films including The Gift (2000), Bandits (2001) and playing the wise beautiful elf, Galadriel, in the Lord of the Rings trilogy. She won rave reviews for her portrayal of Veronica Guerin in the movie of the same name about the real life journalist who took on the underground world of drug kingpins, then accepted the equally challenging role of a mother in 19th century New Mexico whose daughter is kidnapped by a madman in The Missing (2003).
For her role as Katherine Hepburn in The Aviator (2004), Cate received her second Academy Award nomination and made history when she won, as the first person to win an Oscar for portraying a real-life Oscar winner. She received her third Academy Award nomination for her supporting role in Notes on a Scandal (2006), and her fourth and fifth ones in 2008 for I'm Not There (2007) and Elizabeth: The Golden Age (2007), but didn't win for either of those movies. She did, however, win Best Actress from the Australian Film Institute in 2008 for her portrayal of Queen Elizabeth in the latter film and a Golden Globe for the former. In 2010 she was nominated for a Teen Choice Award as Choice Movie Actress: Action Adventure for Robin Hood (2010).
In 2012, Cate reprised her role as Galadriel for the first installment of Peter Jackson's prequel trilogy, The Hobbit: An Unexpected Journey. She will also play the role in the next two installments, to be released in 2013 and 2014. Cate gave an Academy Award-winning performance in Blue Jasmine (2013), in which she starred alongside Alec Baldwin and Sally Hawkins. The film also earned her Best Actress at the Golden Globes, the BAFTAs, the Screen Actors Guild awards and many other awards. She went on to star in The Hobbit: The Battle of the Five Armies (2014), Cinderella (2015) and Carol (2015). For her work in the latter movie, in which she plays an older lesbian who falls in love with a store clerk played by Rooney Mara, Cate received an Academy Award and was nominated for a Golden Globe.
In 2017, Cate starred in Terrence Malick's ensemble drama Song to Song (2017) with Ryan Gosling, Michael Fassbender and Natalie Portman, and the Marvel film Thor: Ragnarok (2017) opposite Chris Hemsworth.

She appeared as Lou in the heist film Ocean's 8 (2018), starring alongside Sandra Bullock and Anne Hathaway and starred opposite Jack Black in the movie The House with a Clock in its Walls(2018).
Despite the pandemic, Cate managed to keep extremely busy, including starring in the critically acclaimed film Tár (2022), in which she played a world-renowned conductor. For her role, she received her eight Academy Award nomination and seventh BAFTA nomination. She also won her fourth Critics Choice Award and her fourth Golden Globe.
Cate, her husband Andrew and their sons, Dashiell, Roman and Ignatius and daughter Edith, live in Bulwarra—an 1877 mansion in the harborside of Sydney, Australia.