Cathy Moriarty Biography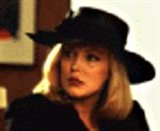 Born: November 29, 1960

Cathy Moriarty
Date of Birth: November 29, 1960
She was born in The Bronx, New York and went immediately from high school into an acting career. She made a colossal breakthrough in 1980 in Scorsese's film Raging Bull, playing Vicky LaMotta opposite Robert De Niro's Jake. She was subsequently nominated for an Academy Award, a Golden Globe Award and a British Academy Award.
She went on to do Neighbors with Dan Aykroyd and John Belushi. She continued with comedy in Kindergarden Cop. Other films include Soapdish, The Gun in Betty Lou's Handbag, Another Stakeout, The Mambo Kings, Matinee and Forget Paris. She most recently starred in films such as Rob the Mob (2014) and Patti Cake$(2017).


Moriarty has a restaurant called Mulberry Street Pizza with two locations in California. She married Joseph Gentile in 1999 -- they had twins, a boy and a girl in September 2000 and another daughter in November 2001.