Cynthia Nixon Biography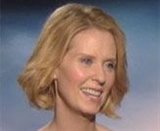 Born: April 09, 1966

Date of Birth: April 9, 1966
Cynthia Nixon is best known for her role as Miranda Hobbes on the popular TV series Sex and the City (1998 to 2004); however, Nixon's acting career began long before she became part of Manhattan's fabulous foursome.
Nixon started out acting in Broadway productions. Her stage debut was in 1980 when she played Dinah Lord in the revival of The Philadelphia Story. Nixon's Broadway acting continued as she starred in a 1988 New York Shakespeare Festival production of Romeo and Juliet, The Heidi Chronicles (1988), Angels in America (1994), Indiscretions (1996), and The Last Night of Ballyhoo (1997). In 1996, The Drama Dept., a company that develops and produces new works and neglected classics, was founded. Nixon, Sarah Jessica Parker and Isaac Mizrahi were among the founding members. Nixon appeared in five of the group's dramatic productions.
Although Nixon spent time on the Broadway stage, she was no stranger to the big screen. At 14, she played Sunshine, the daughter of hippies in Little Darlings (1980) opposite Tatum O'Neal and Kristy McNichol. Following this, Nixon took on numerous small parts in films such as I am the Cheese (1983), Addams Family Values(1993), and 'M' Word (1996), to name a few.
Nixon's profile skyrocketed when she took the role as Miranda Hobbes, the smart, self-assured New York lawyer, in the HBO drama-comedy series Sex and the City. The show details the lives of four established women living in Manhattan.
Sex and the City led Nixon to her first big screen leading role as Missy, a women who falls in love with her gay friend's boyfriend, in Advice from a Caterpillar (1999).
When Sex and the City came to an end, Nixon took roles in the films The Babysitters (2007), Little Manhattan (2005), and One Last Thing (2005) and made guest appearances on the television shows ER and House.
After a four year break, Nixon rejoined Sarah Jessica Parker, Kim Cattrall, and Kristin Davis on the big screen in the movie adaptation Sex and the City (2008) and then in Sex and the City 2 (2010).
Since then, she's appeared in the Golden Globe-winning dramedy series The Big C with Laura Linney, acted alongside Woody Harrelson in the crime drama Rampart (2011), played a role in eight episodes of the miniseries World Without End (2012), acted in the Emmy-nominated series Hannibal, and won rave reviews for her powerful performance in the drama James White (2015).
Cynthia's latest credit is the film A Quiet Passion (2017), in which she plays famed American poet Emily Dickinson.
Nixon was nominated in 2002 and 2003 for an Emmy for Outstanding Supporting Actress in a Comedy Series for Sex and the City and took the award home in 2004. In 2006, Nixon won her first Tony Award for Best Actress in a Leading Role in Rabbit Hole.
Nixon has two children with English professor Danny Mozes: Samantha Mozes, born November 1996, and Charles Ezekiel Mozes, born December 2002. Nixon and Mozes met in junior high school and were together from 1988 to 2003. Since then, Nixon has come out as gay. In 2012, she married education activist Christine Marinoni. The couple has one child together.