Dakota Goyo Biography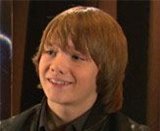 Born: August 22, 1999

Date of Birth: August 22, 1999
Dakota Goyo was born in Toronto, Ontario. He made his first commercial as an infant. His television debut came at the age of five in the CBS pilot Ultra. His natural acting, emotional range and ability to memorize scripts at such a young age landed him roles in numerous television and animation series. Happiest when performing, Goyo displays a confidence and maturity beyond his years. When asked in an interview what the hardest part of acting is for him, he replied "The hardest part of acting is not when I'm acting, it's when I'm not."
Guest appearances on television include: Super Why for PBS, a recurring role on Shaftesbury Films' Murdoch Mysteries, which aired on CTV and Bravo! in Canada, as well as a recurring voice role as Timmy Tibble on the popular children's television series Arthur. Dakota also completed a series lead role in the ABC pilot Solving Charlie, in the title role as an orphaned boy with an IQ of 190 who helps his long lost brother, an aspiring detective, to solve crimes.
Dakota has an extensive and impressive list of feature film credits. His first lead role in a feature was completed at the tender age of six as Teddy Kernan in Resurrecting the Champ (2007), for which he received a Young Artist Award. By age seven he starred alongside Susan Sarandon and Christopher Plummer in Emotional Arithmetic (2008). At nine, Dakota appeared as Jack Carter in Defendor (2009) opposite Woody Harrelson.
After a nationwide search by Dreamworks Studios in early 2010, at the age of 10, Dakota was chosen to play the lead role of Max in Real Steel, co-starring Hugh Jackman and directed by Shawn Levy. Levy reported to the Canadian Press that "Goyo is the next big export to take over movie screens. Goyo appears in nearly every frame alongside Jackman. He's not only a great actor but he's got something kind of magical about him."
By late September 2010, Dakota had finished filming Real Steel and was cast in the highly anticipated Marvel Feature Thor (2011), directed by Kenneth Branagh. Goyo plays the role of Young Thor opposite Sir. Anthony Hopkins. Goyo also voiced a character for the 2012 animated feature Rise of the Guardians.
In his spare time, Dakota enjoys outdoor sports such as bike-riding, soccer, skiing, golfing, horseback riding, martial arts, swimming and skating.