Dan Futterman Biography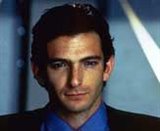 Born: June 08, 1967

DAN FUTTERMAN
Date of Birth: June 8, 1967
Futterman was born in Maryland and grew up in Westchester County, New York. He graduated from Columbia University with a degree in English literature and began acting in college doing student theatre. Immediately upon graduation, he started auditioning.
His first film was The Fisher King, playing one of the thugs under the Manhattan Bridge that beats up Jeff Bridges's character.
The Birdcage (1995) starring Robin Williams and Nathan Lane was the film that gave him a leg up. Playing the son of William's gay character, Futterman recieved his widest exposure.
1998's Shooting Fish was Futterman's first starring role. The film centred around two con men, one American and one British, who both get sidetracked by a girl (Kate Beckinsale).
Futterman's other films include Breathing Room, Passed Away, Big Girls Don't Cry ... They Get Even and 1999 His biggest role to date in a major motion picture has been playing murdered journalist Daniel Pearl opposite Angelina Jolie as his wife in A Mighty Heart (2007).
On stage, he's appeared on Broadway in Angels in America and in Jon Robin Baitz's A Fair Country, among other productions.
Offscreen, Futterman married producer/writer Anya Epstein in 2000. They have two daughters.