Daryl Sabara Biography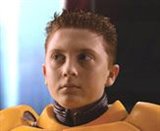 Born: June 14, 1992

Date of Birth: June 14, 1992
Daryl Sabara's first role was playing Murphy Brown's baby on the hit sitcom Murphy Brown, alternating in the role with his fraternal twin brother, Evan. By the time he was four, Daryl was a member of the South Bay Ballet Company and had landed a guest role on the ABC series Life's Work. One of the regulars on the show was Alexa Vega, who would later play his sister in the Spy Kids films. Guest appearances on series such as Love & Money, Roswell and Will & Grace followed.
When he was just eight, Daryl landed the role of Juni Cortez, a boy who, along with his sister, finds out that their parents are spies in the box office hit Spy Kids (2001). The film earned over $100 million at the domestic box office and spawned two sequels. Starring as the parents were Antonio Banderas and Carla Gugino. Gugino got the part after filming had begun, through her association to Sabara. She had done a Hallmark Hall of Fame TV movie called Season for Miracles, in which Daryl's twin brother played her nephew. When Daryl heard that the Spy Kids director, Robert Rodriguez, was looking for someone to play the mother, he brought the tape of the movie and suggested Gugino for the role. Rodriguez watched the film and sent her a script.
Daryl, now a little older, can be seen in the fantasy adventure film John Carter (2012) playing the role of Edgar Rice Burroughs. More recently, he starred in The Green Inferno (2015).
Daryl continues to study ballet, as well as tae kwon do. He also enjoys playing video games.