David Boreanaz Biography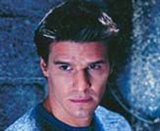 Born: May 16, 1971

Date of Birth: May 16, 1971
Born in Buffalo, New York, and raised in Philadelphia, Boreanaz was the son of a weather forecaster.
His decision to become an actor came at the early age of seven, when he watched Yul Brynner play the role of the King of Siam in The King and I. After watching the production with his parents, he fell in love with theater.
But for awhile, Boreanaz wanted to become a football player. "I drank tons of milk and ate green beans because I heard that made you run faster and jump higher," says David, who played wide receiver and defensive back on his high school team. "It was all I wanted to do. I was obsessed with it." But his dream came to an end in his junior year after he injured his knee during a track jump. "I realized that football wasn't going to be a career for me."
He graduated from Ithica College in New York and moved to Hollywood with the hopes of fulfilling his secret dream.
But things didn't come easily for Boreanaz.
He spent a few years living paycheck to paycheck—getting some acting jobs while also earning cash as a valet parker, a house painter, and the guy who hands out towels at a sports club.
He got work in a couple of commercials, but his first big break was a guest spot on Married...with Children playing Kelly Bundy's biker boyfriend.
He has also appeared in the television movie Men Don't Lie.
On stage, Boreanaz has performed at the Ensemble Theatre in Hat Full of Rain, at the Gardner Stage in Italian-American Reconciliation and Fool for Love, and on theatre row in Cowboy Mouth. His feature film credits include Aspen Extreme, Best of the Best 2 and Eyes of the World.
It wasn't until 1997 that Boreanaz got his big break. While playing with his dog, Bertha Blue, in a park near his house, a big-time Hollywood manager approached him and asked if he was in the biz.
David told him about the commercials he'd been in and the time he played Kelly Bundy's biker boyfriend on Married...with Children. The manager told David he'd be perfect for the part of Angel, a new character on Buffy the Vampire Slayer. A few days later, David got the job playing the troubled vampire, Angel.
Two years later, a spinoff of the show was made and suddenly Boreanaz was starring in his own hit television show, Angel.
For the start of the new millennium, Boreanaz has extended his resumé to include a starring role in the feature film, horror/thiller Valentine (2001). Shortly after Angel ended its run in 2004, he was cast as one of the two lead characters of the crime drama series, Bones, playing an FBI agent.
He continues to work in film as well during breaks from the series, including These Girls (2005) and Our Lady of Victory (2008).
Boreanaz is married to actress Jaime Bergman. They have a son and a daughter together.
In his spare time, he enjoys playing harmonica, golf, basketball and football and has two dogs.