Derek Luke Biography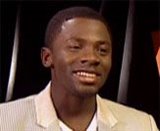 Born: April 24, 1974

Date of Birth: April 24, 1974
Growing up in Jersey City, New Jersey, Derek Luke dreamed early on of acting, asking his mother to let him become an actor when he was just four. In 1995, he headed to California with $1,000 that he'd saved up. His first job was as an usher for Audiences Unlimited, helping viewers find seats to various sitcom tapings on the Universal Studios lot. The next year, he began working at the retail store on the Sony Pictures lot. While there, he met Antwone Fisher, a former Sony Pictures security guard who had recently become a screenwriter. Luke learned that a film based on Fisher's life was being developed, and so he crashed the auditions. Although he felt that he'd "bombed the audition," he did well enough to get a callback. His second audition was better, but the movie was put on hold because of director Denzel Washington's busy schedule.
Luke took some acting lessons and landed guest appearances on television shows such as Moesha and The King of Queens. In 2001, he heard that auditions were again being held for the Antwone Fisher movie, which was back on. His first audition went so well that he was asked to come back to meet with Washington. Several weeks later, Fisher dropped by the Sony store to chat with Luke. At the end of their conversation, Luke walked outside with Fisher and saw Denzel Washington approaching with the film's producer, Todd Black. Luke assumed they were coming over to speak to Fisher, but instead, Washington greeted Luke with, "Hi Antwone." The two had actually been on their way to surprise Luke with the good news that he had landed the role. Luke won several awards for his breakthrough role, including an Independent Spirit Award as Best Male Lead, a Special Achievement Award from the Golden Satellite Awards for Outstanding New Talent, a National Board of Review award for Best Breakthrough Performance, and a Black Reel award for Best Breakthrough Performance - Viewer's Choice.
Since making his feature film debut in Antwone Fisher (2002), Luke has landed lead roles in several other features, including playing Katie Holmes' boyfriend in the independent film Pieces of April (2003), starring opposite Laurence Fishburne in Biker Boyz(2003), co-starred with Val Kilmer in David Mament's Spartan (2004), co-starred with Josh Lucas in Glory Road (2006) and Ryan Reynolds in Definitely, Maybe (2008). Between 2009 and 2010, Luke enjoyed a recurring role on the television series Trauma before landing a part in the 2011 film Captain America: The First Avenger. He also appeared alongside Steve Carell and Keira Knightley in the 2012 comedy Seeking a Friend for the End of the World (2012) and with Jordin Sparks and the late Whitney Houston in Sparkle (2012).
Luke lives in Pasadena with his wife, actress Sophia Adella Hernandez.