Diego Boneta Biography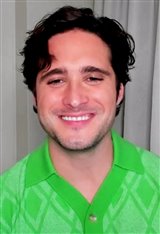 Born: November 29, 1990

Diego Boneta is a musician by nature. At the age of 12, he competed in a children's reality series in Mexico called Codigo Fama. Not only did he finish in the top five, he also landed a role on the Spanish television show Alegrijes y Rebujos that also had a musical group attached to it — they were nominated at the Latin Grammys in 2004 for Best Children's Group. The following year, Boneta won another Latin Grammy for his solo soundtrack Mision SOS. He released a second album in 2008 called Indigo and was nominated as Best Solo Singer at the 2008 Latin MTV Awards.
Boneta began making appearances in several Spanish television shows, including the popular novella Rebelde. In 2010, he landed the role of Alex Santiago, the country club's handsome new employee, in the first season of the popular ABC series Pretty Little Liars. That same year, he also scored another gig in the reboot of 90210. Two years later, he had the opportunity to return to his musical beginnings when he was cast as the male lead in Adam Shankman's on-screen adaption of Rock of Ages (2012).
Since then, he's appeared in the drama series Underemployed, the thriller City of Dead Men (2014), the horror flick Summer Camp (2015), the thriller Eden (2015) and Ryan Murphy's popular, campy series Scream Queens (2015) with Emma Roberts.
Diego's latest credits include an episode of Jane the Virgin in 2016, the sport film Pelé: Birth of a Legend (2016) with Vincent D'Onofrio, and the mystery drama Before I Fall (2017) with Zoey Deutch and Jennifer Beals.
Boneta has a triple citizenship in U.S., Mexico, and Spain, but is currently living in L.A. where he continues to work on both acting and singing. Some of his favorite pastimes include going to the beach, surfing, and as of recently, horseback riding.