Dree Hemingway Biography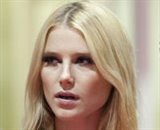 Born: December 04, 1987

Date of Birth: December 4, 1987
With a renowned author as her great-grandfather, an Oscar-nominated actress for a mother and a famed model-actress aunt, Dree Hemingway's ascension to stardom is far from shocking.
Born in Sun Valley, Idaho, Dree Louise Hemingway Crisman is the daughter of Mariel Hemingway and Stephen Crisman. Her great-grandfather is Ernest Hemingway and her aunt is the late actress Margaux Hemingway.
Dree grew up in Ketchum, Idaho and attended an elementary school named after her great-grandfather Ernest. She moved to Westlake Village, California when she was a teenager and attended Oaks Christian High School for two and a half years. She dropped out to pursue a career in modeling.
Her choice to model proved to be lucrative. She has since walked the runway for Givenchy, Calvin Klein, Topshop, Karl Lagerfeld and Chanel. Additionally, she has done campaigns for Gucci, Valentino, Jean Paul Gaultier and H&M.
But modeling wasn't her only passion. Following in her aunt and mother's footsteps, she recognized an affinity for acting and trained in classical Shakespearean at London's Royal Academy of Dramatic Arts (RADA).
In 1999, she played a small, uncredited role in her first feature film, Kiss of a Stranger, which starred her mother.
She rejoined forces with Mariel in the 2006 TV movie Between Truth and Lies, as well as the 2009 film Archie's Final Project. The latter co-starred David Carradine. Both works credit her as Dree Crisman rather than Hemingway.
Dree stepped out of her mother's shadow in the 2011 drama The Truth About Angels. In the same year, she shared the screen with Marcia Gay Harden, Peter Gallagher, Lucy Liu, Ellen Burstyn, and Aubrey Plaza in Someday This Pain Will Be Useful to You.
She broke out in the indie drama Starlet in 2012, winning rave reviews as the multi-layered Jane. The film is about a 21-year-old woman (Jane) who discovers a hidden stash of money belonging to an older woman, and eventually strikes up a friendship with her. The Sean Baker-directed movie was nominated for two Independent Spirit Awards and walked away from the ceremony with one win.
In 2014, Dree kept busy with work in three films. She starred alongside Jason Schwartzman and Elisabeth Moss in the dramedy Listen Up Phillip (2014); teamed up with America Ferrera and Amber Tamblyn in X/Y, which was nominated for an award at the Tribeca Film Festival; and shared the screen with Ben Stiller, Naomi Watts, Adam Driver and Amanda Seyfried in the Noah Baumbach-directed dramedy While We're Young, which was listed as one of the National Board of Review's top 10 films of 2015.
Dree's latest film is the mystery drama The People Garden, which is set in a Japanese forest and co-stars Pamela Anderson. After working with her, Dree told Elle that Pamela is "incredible" and a "fantastic actress."
In the same Elle interview, Dree also revealed that she would love to have a black cat one day, she struggled through her great-grandfather's writing in school but appreciates it now, and she thinks she looks "constipated" when she walks down the runway.
Besides modeling and acting, Dree's passions include rum, boats, Africa, being outdoors and exploring people in new places.