Gary Winick Biography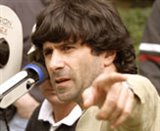 Born: January 01, 1961

Date of Birth: c. 1961
A native of New York City,
Gary Winick
decided that he wanted to be a filmmaker while studying English at Tufts University. Rather than writing papers, he made films for credit and also directed nine half-hour television episodes for a public access station. The show was called
Tracks Inn
and starred his schoolmates,
Oliver Platt
and
Hank Azaria
. Winick earned his B.A., then received M.F.A. degrees from both the University of Texas and the American Film Institute. While at AFI, Winick won the Paramount Foundation Award, the Hollywood Foreign Press Scholarship, and the Remy Martin Award for producing and editing the short film
Punk
(1986).
Winick directed the small budget film Curfew (1989) for the video market, followed by Sweet Nothing (1996) starring Mira Sorvino, but it wasn't until he directed The Tic Toc Code (1999) starring Gregory Hines that people began to take notice. The film won the Audience Award for Most Popular Feature at the Hamptons International Film Festival and the Glass Bear at the Berlin International Festival for Best Feature Film.
In 1999, Winick teamed with John Sloss and IFC Productions to create the company InDigEnt, dedicated to exploratory digital cinema. Winick directed and produced the feature film Tadpole (2002), using digital technology on a $150,000 budget, and won the Best Director award at the 2002 Sundance Film Festival. The film was subsequently picked up for $5 million and distributed by Miramax Films.
Winick's his first big budget motion picture was 13 Going on 30, a comedy starring Jennifer Garner. It was a huge hit and he went on to direct Charlotte's Web, starring Dakota Fanning and Letters to Juliet, starring Vanessa Redgrave. He also teaches film at New York University's Tisch School of the Arts.