Henry Cavill Biography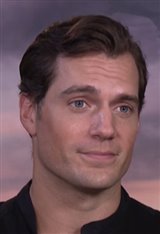 Born: May 05, 1983

Born in Jersey, Channel Islands, UK, Henry Cavill first discovered his love for acting while attending the prestigious Stowe school in Buckingham. He then made his movie debut with a role in The Count Of Monte Cristo (2002). Following that, he appeared on the British TV shows, The Inspector Lynley Mysteries and Goodbye Mr Chips.
In 2005, Henry was dubbed the "most unlucky man in Hollywood" after losing out on the role of Batman to Christian Bale, James Bond to Daniel Craig and Superman to Brandon Routh.
Always among the final two considered for parts, the British actor started to question his career path. But when small movie roles in Tristan & Isolde and Stardust started to roll in, giving his profile a boost, his luck started to change.

Aside from landing a contract with Dunhill fragrances, it was with the sexy, critically-acclaimed drama series The Tudors that put Henry's name on the map. In The Tudors, Henry played the devilishly handsome Charles Brandon, best friend and consort to Jonathan Rhys Meyers' Henry VIII.

Other roles started to trickle in and Henry jumped at the chance to star in Woody Allen's Whatever Works (2009). He then landed the role of Theseus in Immortals (2010) and also appeared in the thriller The Cold Light of Day (2012) alongside Sigourney Weaver and Bruce Willis.
In 2011 it was announced that Henry won the role of Superman in the highly-anticipated Man of Steel, directed by Zack Snyder. When the film opened in 2013, it earned over $100,000 during its opening weekend.
He then starred in The Man from U.N.C.L.E.(2015) alongside Armie Hammer.
After reprising his role as Clark Kent/Superman in Batman v Superman: Dawn of Justice (2016) and in Justice League (2017), he played an all-new character, August Walker, alongside Tom Cruise in Mission: Impossible - Fallout (2018).
As with many other actors, he soon found himself starring on Netflix. He currently plays the starring role of Geralt of Rivia on the sci-fi series The Witcher and was cast as Sherlock Holmes opposite Millie Bobby Brown, who played his younger sister in the Netflix film Enola Holmes (2020).