James Frain Biography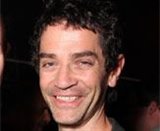 Born: March 14, 1968

Date of Birth: March 14, 1968
Born in Leeds, England, James Frain is the oldest of eight children and was raised in Hertfordshire. At the University of East Anglia, he studied English, Drama and Film and received further training as an actor at the Central School of Speech and Drama. In 1993, while in his final year, he was recognized by Richard Attenborough for his acting talent and made his film debut in Shadowlands.
Since his debut, he has been enjoying success as an actor both on television and film. Frain was nominated as Best Actor at the 1995 Venice Film Festival for his role as Kenny in Nothing Personal. He has also appeared on stage as a member of the prestigious Royal Shakespeare Company, as well as at the Royal Court Theatre. Though he's made numerous guest appearances on television shows, Frain is well known for his role as the doomed Thomas Cromwell in two seasons of Showtime's popular series about King Henry VII, The Tudors. Frain currently plays vampire, Franklin Mott in the popular HBO series, True Blood. On the big screen, he plays Jarvis in the blockbuster film Tron: Legacy.
In 2004, Frain married American actress and screenwriter, Marta Cunningham. The couple has two children together. In his spare time, Frain is an amateur artist.