Jason Segel Biography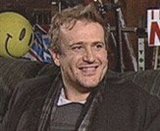 Born: January 18, 1980

Date of Birth: January 18, 1980
Los Angeles native Jason Segel is a lucky guy. The former basketball star got his big acting break when he put on a play The Zoo Story by Edward Albee in high school all on his own, and the head of the acting department suggested he give up basketball and give acting a try. Segel first laughed at the suggestion, but finally agreed to audition for the teacher and another woman. The woman happened to be the casting president at Paramount, and it was this audition that helped him land the role in the film Dead Man on Campus that jump-started his career.
He has come a long way since, appearing in films Can't Hardly Wait(1998), SLC Punk!(1998), and New Jersey Turnpikes (1999), before landing the role of Nick, a "freak" on Judd Apatow-produced cult television series Freaks and Geeks. A talented piano player, Segel wrote a song for his character to sing to the lead female character, Lindsay (Linda Cardellini), in an episode of the show, and Segel and Cardellini dated for a few years after the show ended. He then played parts in films such as Slackers (2002), 11:14 (2003), Certainly Not A Fairytale (2003), The Good Humor Man (2005), and Bye Bye Benjamin (2006), and guest starred in television series Undeclared (2001 to 2002), Alias (2005), and CSI: Crime Scene Investigation (2004 to 2005).
His more well-known roles are in the popular Hollywood films Knocked Up (2007) and Forgetting Sarah Marshall (2008), and the television comedy series How I Met Your Mother which debuted in 2005. Segel employed many of his creative talents in Forgetting Sarah Marshall, as in addition to starring in the film, he wrote the entire screenplay and the music for the puppet musical. He had been writing the musical, Dracula's Lament, separately from the film, but decided eventually to incorporate the two together. Segel also made a big splash by including his own full-frontal nudity in the movie, aiming for pure comedic value. "If you can find the line between sympathetic and creepy, you have reached a very funny area," he explained. He is no stranger to this type of comedy, often choosing to take in the view out of his Los Angeles home in the nude.
In addition to continuing his role as Marshall Eriksen on How I Met Your Mother, Segel can be seen in the comedy I Love You, Man (2009) alongside Paul Rudd, Gulliver's Travels (2010), Despicable Me (2010), Bad Teacher (2011) and Friends With Benefits (2011). In 2011, he got to bring his love for the Muppets to the big screen when he co-wrote, co-produced and starred in the feature film The Muppets. Segel also has two big films, both comedies, lined up for 2012: Jeff, Who Lives at Home about a man who discovers his destiny while out running an errand for his mother, and The Five-Year Engagement about a couple who have an extra long engagement because they can't nail down a date for their wedding.
He loves Disneyland and is a fan of classic rock and reggae music. In February 2012 he was honored with the title of Man of the Year by Harvard University's Hasty Pudding Theatricals, America's oldest undergraduate drama troupe.