Jessie Buckley Biography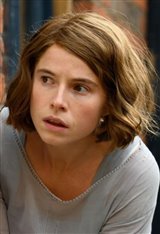 Born: December 28, 1988

JESSIE BUCKLEY

Date of Birth: December 28, 1988

Irish singer and actress Jessie Buckley was born in Killarney in the Republic of Ireland, the eldest of five children. Growing up, she was surrounded by music as her mother, Marina Cassidy, is a professional vocal coach who encouraged Jessie to pursue a singing career.

While attending an all-girls school in Thurles, Jessie performed in multiple theater productions, including playing the lead role of Tony in the musical West Side Story. Beyond singing, she is also proficient in playing the piano, the clarinet and the harp.

Jessie trained with the Royal Irish Academy of music before moving to Britain at the age of 18 to pursue her musical education there. Prior to her enrollment and graduation from the world-famous Royal Academy of Dramatic Art, she was rejected from two other drama schools.

At age 19, she landed a spot on I'd Do Anything, a primetime search for a new, unknown lead to play the role of Nancy in a London stage revival of the musical Oliver! Buckley finished the competition in second place and turned down the chance to be the winner's understudy so she could star in the production of A Little Night Music. For a while, she continued to perform on the stage before she eventually found her way onto television.

Her first TV role was as Emily Strong in Rosamunde Pilcher's four-part TV adaptation of her novel Shades of Love in 2013. Following this, Jessie appeared alongside Jude Law in the theater production of Henry V, then returned to TV in 2016 for her biggest role yet as Marya Bolkonskaya in the BBC dramatization of War & Peace. This performance earned her great critical acclaim.

Jessie has continued to appear on television and had a recurring character on the BBC drama series Taboo, alongside Tom Hardy. She's also appeared in the series The Last Post and The Woman in White.

Jessie made the jump from TV to film in 2018 with her role as Moll Huntingdon alongside Johnny Flynn in the psychological thriller Beast (2018). She also appears as Rosalyn Wilder alongside Renée Zellweger in the Judy Garland biopic Judy (2018) and plays Queen Victoria in the comedy The Voyage of Doctor Dolittle (2019), which stars Robert Downey Jr. in the title role.