Jimmy Fallon Biography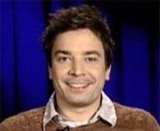 Born: September 19, 1974

Born in Brooklyn, NY, Jimmy Fallon was raised in Saugerties, NY. He performed his first impression (of James Cagney) when he was just two years old. But he credits his first big break to troll dolls. During his senior year at high school, he was given a troll doll wearing a graduation cap. Meanwhile, his mother heard about an impression contest at the Bananas comedy club in Poughkeepsie. Fallon came up with a commercial for troll dolls with different celebrities auditioning to be the spokesperson. He won the contest and after attending the College of Saint Rose in Albany, NY, began touring standup across the country, appearing regularly in clubs such as Caroline's Comedy Club in NYC and The Improv in Los Angeles. While in LA, he took acting classes with The Groundlings.
In 1998, Fallon fulfilled a longtime ambition when he was hired as a featured player on the late night sketch comedy series, Saturday Night Live. In 1999, he released his first book: "I Hate This Place: The Pessimist's Guide To Life," which he co-wrote with his sister, Gloria Fallon. In September 2000, Fallon became SNL's Weekend Update anchor alongside head writer/co-star Tina Fey and continued on in that role until Spring 2004, when he bid goodbye to the show in order to concentrate on his movie career.
Fallon made his feature film debut in the Oscar-winning Almost Famous (2000). Roles in the TV movie Sex and the Matrix (2000) and the Tom Hanks-directed Band of Brothers mini-series (2001) followed. He next snagged the role of Bob, who gets dumped by Christina Ricci's character in Woody Allen's Anything Else (2003). In Taxi (2004), he finally landed the starring role, playing an undercover cop who relies on a cab driver played by Queen Latifah to get him around. Next up for Fallon is another starring role opposite Drew Barrymore in Fever Pitch (2005), directed by the Farrelly brothers and shot in Toronto and Boston.
Fallon makes his home in New York City.