Joe Alwyn Biography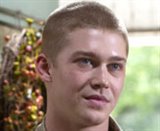 Born: February 21, 1991

Date of Birth: February 21, 1991
Joe Alwyn is a London, England-born actor who landed his first on-camera role in a rather remarkable project. With a background only in theater, Joe auditioned for Oscar-winner Ang Lee's 2016 war drama Billy Lynn's Long Halftime Walk and within weeks had the part as the lead. Not only was it Joe's first film, the movie was also the first to utilize 120 frames-per-second technology.
Joe, who admitted to Vogue in August 2016 that although he "wasn't one of those kids [to] get up on tables and dance at a young age," he has always harbored a secret desire to act.
Born to a psychotherapist mother and documentary filmmaker father, Joe enrolled in London's Royal Central School of Speech and Drama. He was studying at the school when he auditioned for the role of Billy in Ang's film. He auditioned in New York City and was waiting to board a plane back to London when Ang called and asked him to test for the role in Georgia, where he was eventually given the part.
In October 2016, Joe told the Hollywood Reporter that his involvement in the film was solidified "incredibly quickly." As Ang revealed to Vogue in August 2016, "[Joe] didn't look at all how I imagined Billy. But when he read for us, I went, 'I want this guy.'"
Joe plays the film's central character Billy Lynn, a soldier in the Iraq war who, upon returning to the U.S., is sent on a victory tour that culminates at the Dallas Cowboys' Thanksgiving game. He shares the screen with A-list talent including Kristen Stewart, Vin Diesel, Garrett Hedlund and Steve Martin.
Billy Lynn's Long Halftime Walk is based on a prize-winning novel by Ben Fountain, and for his work in the drama, Joe earned rave reviews. In October 2016, Variety film critic Owen Gleiberman said, "Joe Alwyn, as Billy, gives you the feeling you had when you first saw the young Leonardo DiCaprio: so much openness, so much cagey and responsive empathy, so much going on in that face."
During his interview with The Hollywood Reporter in October 2016, Joe addressed his role in Billy Lynn. He said, "In many ways, he's a long, long way away from me. I'm from London, and he's a Texan soldier. But at the heart of it, the story is about a boy finding his place in the world. Although that takes place within this framework of this halftime show and the war and all these bigger things swirling around him, its heart is something very relatable."
Now a graduate of London's Royal Central School of Speech and Drama, Joe's latest project, The Sense of an Ending (2017), places him alongside Michelle Dockery, Emily Mortimer, Charlotte Rampling and Jim Broadbent. The drama is based on a Julian Barnes novel.
Later this year, Joe will also join forces with Gerard Butler and Peter Mullan in the thriller Keepers, which is inspired by the Flannan Isle mystery.