Joel Schumacher Biography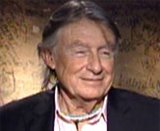 Born: August 29, 1939
Died: June 22, 2020
Date of Birth: August 29, 1939
Joel Schumacher was raised in New York City by his Scandanavian mother after his Knoxville-born father died when Schumacher was four. He later moved to Miami with his mother.
In 1965, Schumacher graduated from the Parson School of Design. He made piles of money in the clothes-design business (he worked for Revlon for many years). Personal problems caused his design business to fail so he began looking up the showbiz friends he'd made during his moneyed days and was able to obtain a costumer's job for the 1972 feature Play It As It Lays. He then became a costume designer, being credited on such films as Woody Allen's Sleeper and Interiors, as well as Paul Mazursky's Blume In Love. It wasn't long before he put pen to paper and wrote the screenplay for Sparkle followed by the successful black-oriented comedy Car Wash (both 1976).
Having worked as an art director on televsion commercials, this enabled Schumacher to step behind the camera as a director of television movies such as The Virginia Hill Story starring Dyan Cannon and Harvey Keitel. He marked his feature directorial debut with The Incredible Shrinking Woman (1978) starring Lily Tomlin.
The bulk of his work was deliberately geared to the "youth" market, most notably D.C. Cab (1981) and St. Elmo's Fire (1985), both of which he wrote. The success of these two films allowed Schumacher to go on to make The Lost Boys, starring Jason Patric and Kiefer Sutherland and Flatliners starring Kevin Bacon and Julia Roberts with whom Schumacher became enamored, a fact that clouded his critical judgement. This resulted in the lesser Roberts vehicle Dying Young (1991).
He was at the helm of two films based on John Grisham novels; A Time To Kill starring Sandra Bullock and Matthew McConaughey, and The Client featuring Susan Sarandon and Tommy Lee Jones. Schumacher also picked up where Tim Burton left off with his Batman series by directing Batman Forever, starring Val Kilmer, Jim Carrey and Nicole Kidman as well as Batman & Robin with George Clooney, Arnold Schwarzenegger and Uma Thurman.
In 1999, Schumacher released two films that were from opposite ends of the spectrum. 8MM, a film about investigating the seedy underbelly of the porn industry and Flawless, a comedy about the relationship between a retired cop and a drag queen.
Having basically discovering Colin Farrell for Tigerland (2000), Schumacher then cast him in the starring role in Phone Booth (2002) and convinced the actor, now a huge star, to play a minor role in Veronica Guerin (2002), filmed in Ireland. The film won a Solidarity Award at the 2003 San Sebastian International Film Festival. Schumacher then took on the monumental task of adapting Andrew Lloyd Weber's hit stage musical The Phantom of the Opera into a big budget screen version, using minimal star power.
Schumacher died following a long battle with cancer at the age of 80 in New York.