Joey Lauren Adams Biography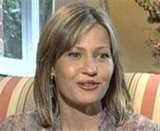 Born: January 09, 1968

JOEY LAUREN ADAMS
Date of Birth: January 9, 1968
Following critical accolades for her role in Chasing Amy, Joey Lauren Adams found herself hotly pursued by Hollywood casting agents.
Born in North Little Rock, Arkansas, Adams moved to California in the late '80's. On arrival in Los Angeles she appeared -- like millions of perky blondes before her - in countless sitcoms and movies-of-the-week.
She first appeared in Richard Linklater's Dazed And Confused (you can find her 36th in the cast list, after future fellow stars Parker Posey, Matthew McConaughey, Milla Jovovich and Chasing Amy co-star Ben Affleck).
While filming a small part in Mallrats she met writer/director Kevin Smith, and the two became romantically involved. He cast her as the female lead in his next film, Chasing Amy - the story of a comic book artist who falls for a lesbian, but has too many questions about her past for true love to triumph."The film reflects many of the things Kevin and I were going through at the time," she says.
Her powerful performance - deliciously sweet one moment, heart-wrenchingly sad the next - is a harbinger of great things to come from this spirited young talent. "I come from a place of gratitude," she says. "I'm always like, 'Wow, I'm really fortunate.'"
Unfortunately, her acting career cooled down somewhat in the years following, and she found herself with nothing more than supporting roles in small budget flicks. In 2006, she wrote and directed Come Early Morning starring Ashley Judd, which premiered at the Sundance Film Festival, earning a Grand Jury Prize nomination. She also landed a supporting role in the major motion picture The Break Up (2006), starring Jennifer Aniston and Vince Vaughn.