John Schultz Biography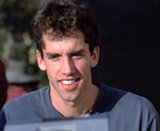 American-born John Schultz started his career working on documentaries. His most successful to date is the much-praised Making of Jurassic Park, to which he devoted three years. It became a top rental title in video stores.
He made his feature film directing debut in 1996 on a film called Bandwagon. Featuring four guys who form a band and hit the road in search of dubious rock stardom. The film, which he also wrote, was hailed at numerous festivals around the world, and won a prize at the Tokyo International Film Festival.
Though he has been working on a project set against the world of stock car racing for the past few years, he released the teen comedy Drive Me Crazy in 1999, followed by the family film Like Mike (2002), for which he won a Young Audience Award at the Gijon International Film Festival. Since they, he's also directed When Zachary Beaver Came to Town (2003), a big screen black version of The Honeymooners (2005) starring Cedric the Entertainer and Mike Epps, Aliens in the Attic (2009), starring Ashley Tisdale and Judy Moody and the Not Bummer Summer (2011).