John Woo Biography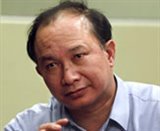 Born: May 01, 1946

Date of Birth: May 1, 1946
Born in Guangzho, Canton, China, John Woo moved with his family to Hong Kong in 1951 when communism came into power.
He has described his childhood as being very rough, and at one point even witnessed someone getting killed in front of their home.
Woo's first encounters with western cinema began in the days of his poor childhood.
His mother, a fan of movies from the west, took him to the cinema regularly. Wizard of Oz was the first film he ever saw; a memory that would inspire him to use the song 'Somewhere Over the Rainbow' to chilling effect in his film Face-Off.
With no film schools in Hong Kong, Woo began to hang out at the offices of "The Chinese Student Weekly", which had become available as sort of an art center.
Woo met a group of young people who loved film and the newspaper rented art films for them to watch and discuss. By stealing film books from libraries and book stores, he learned about film theory. Having seen so many western films, Woo became more and more unsatisfied with Hong Kong films.
Between 1968-1970, he made several experimental 8mm and 16mm shorts and supplemented his meagre income with casual work on professional shoots.
He landed a job as as production assistant and script supervisor at Cathay Studios in 1969. In 1971 he moved over to Shaw Brothers, where he worked as an assistant director for the master of martial arts, director Chang Cheh, who became a heavy influence.
Woo got some first-hand experience with film-technique while working for him, notably editing. Two years later, he made his directorial debut with The Young Dragons. It was banned for too much violence and therefore shelved for two years before being recut, rescored and released in 1975 by Golden Harvest.
Up until 1977, his work mostly consisted of kung-fu movies, although he did make an opera and several successful comedies.
After delivering comedic hits, studios viewed him as a comedy director, which did not bode well with Woo.
After shooting some bloodshed styled films, the studio owners called him too old fashioned and sent him to Taiwan for two years where he only managed to direct two films - The Time You Need a Friend (1984) and Run Tiger Run (1985).
Woo's career seemed to have come to a halt.
But everything was about to change when Woo returned to Hong Kong. His filmmaker friend Tsui Hark had just founded a new company, Film Workshop, and offered him a job.
The new film they made was A Better Tomorrow! (1986), a contemporary gangster pic that combined the themes of traditional martial arts stories with ambivalent characters we know from Film Noir and a good measure of graphic violence. Released in 1986, it proved to be the top grossing film of the year and established its leading men, Leslie Cheung and Chow Yun Fat, as bankable action stars.
As for Woo, who now had a reputation as a first-rate action director, the film marked his artistic coming-out. However, during the editing of the sequel, Woo and Hark had a falling out and Woo was ousted from the company.
Woo was having trouble getting projects green-lighted and was continuosly getting turned down.
This led to an idea that harkened back to a movie Woo had always loved, Le Samourai, in which the killer only kills bad people and finds himself being used to kill a good guy. Woo proposed the idea to the company who turned it down.
However, Chow Yun Fat went over Tsui Hark's head and was instrumental in getting the movie green-lighted. The end result was Woo's cult classic The Killer (1989).
Based on the film's cult status, Woo was offered a chance to work in Hollywood: to direct the Jean-Claude Van Damme vehicle Hard Target (1993). Though the film had the Woo-ish touch, it got an NC-17 rating and after a series of recuts by Woo, the studio assigned somebody else for the final cut in order to reduce the film's length and violence.
In 1992, unpleasant studio politics and the impending communist takeover of Hong Kong governed Woo's decision to move to the States.
His first move was to make a quintessentially non-Woo American action film to see if he could make a movie in the American system. What resulted was 1996's Broken Arrow, which was a box-office smash. Starring John Travolta, Christian Slater and Samantha Mathis, the movie was a hit with audiences, but generally, Woo fans were disappointed.
However, Woo was also doing his best to understand what American audiences want.
As a result of this endeavor, Woo gained the trust of the studio executives. In 1996, just before turning fifty, John Woo received the CineAsia Lifetime Achievement in Fimmaking Award and directed Face Off (1997), starring John Travolta and Nicholas Cage. The movie was a tremendous international success with both audiences and critics.
He then directed Tom Cruise in Mission: Impossible 2 (2000), which made over US$215 million at the domestic box office and won several awards around the world.
In 2001, Woo was honored with an Action Movie Director Award from the World Stunt Awards. He has been married to Annie Woo Ngau Chun-lung since 1976. They have three children.