Jon Favreau Biography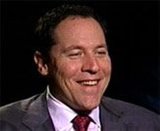 Born: October 19, 1966

Date of Birth: October 19, 1966
The only child born to two teachers in Queens, New York, Jon Favreau became interested in acting in high school. Weighing in then at a whopping 280 lbs, it's no surprise that his heroes were John Belushi and John Candy.
Heading out to Chicago's Second City in hopes of becoming the next fat funny guy, he ended up washing dishes in their restaurant. Eventually he landed a minor role in the football comedy Rudy as Sean Astin's chubby friend. With the money he made from that part, Favreau relocated to Los Angeles and got small parts in Batman Forever and Mrs. Parker and the Vicious Circle. Unfortunately both parts were left on the cutting room floor.
But his life and image changed with his next audition. Trying out for the part of "Fat Butt" in The Shawshank Redemption, he realized it was time to lose some weight and shed 80 pounds within a year. It was also during this period that Favreau wrote the screenplay for a film called Swingers.
Drawing on his own life, he wrote a story about a lovesick comedian's pals helping him find female companionship after being dumped. Everything from experiences kicking around town with his pals trying to meet "beautiful babies" at Hollywood's cocktail-nation swing clubs, epic video-hockey struggles to late-night diner excursions--was all semi-biographical. When the script got circulated around Hollywood, several studios responded. But even though the studios wanted to cast name stars, Favreau held out, especially since he'd promised his friends they could be in it.
Instead of the $20-million budget that had been suggested, Swingers was shot for $250,000 with every word exactly as Favreau had written them and with every actor he'd written them for. Directed by Doug Liman and starring Favreau and Vince Vaughn, the movie was a festival and indie hit.
Jon's other credits include the sci-fi blockbuster Deep Impact and the black comedy Very Bad Things (both 1998). His career continued to get hotter than ever, with roles in films such as Something's Gotta Give (2003), Wimbledon (2004), The Break Up (2006), I Love You, Man (2009), The Wolf of Wall Street (2013), Spider-Man: Homecoming (2017), Avengers: Endgame (2019) and Spider Man: Far from Home (2019), reprising his role as Happy Hogan in the latter three.
His directing career is just as hot, with his second feature, Elf (2003), starring Will Ferrell, grossing almost $200 million at the domestic box office. That success led him to be chosen to helm the blockbuster Iron Man, starring Robert Downey Jr. and the sequel, Iron Man 2, which grossed over $300 million at the domestic box office. In 2014, he directed/wrote/starred in the film Chef. This would be the first film where he played a major role on all sides of the production. He also directed the hit Disney film The Jungle Book (2016), about a boy raised by a family of wolves since birth. It has been announced Jon will direct the sequel to the movie as well. He went on to to direct the live-action The Lion King movie based on the hit animated feature film.
His personal life is thriving as well, having married Joya Tillem on November 24, 2000. They have a son and two daughters.