Jon M. Chu Biography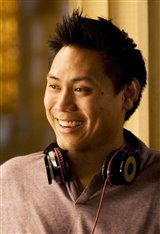 Born: November 02, 1979

Date of Birth: November 2, 1979
An American film director and screenwriter, Jon M. Chu is an alumnus of the USC School of Cinema-Television, where he won the Princess Grace Award, the Dore Schary Award, the Jack Nicholson directing award and was recognized as an honoree for the IFP/West program.
Chu began making films in the fifth grade when his mother decided to let him be in charge of the camera when his family would go on vacations. Rather than shooting his family, he started making sci-fi thrillers and murder mysteries.
After making his student short When the Kids Are Away, Chu was signed to William Morris Agency and attached to several high profile projects. Sony Pictures hired Chu to direct their feature Bye Bye Birdie, but the movie was never green lit due to budget concerns.
Chu's first Hollywood project as director and writer gained him attention. Made on a shoestring budget, Silent Beats (2001) starred Antoine Grant as an African-American boy who is confronted by the harsh reality of assumptions and stereotypes in an ordinary trip to the convenience store.
Dance is a huge part of Chu's life, not only represented in his movies but also in his own life. He is a part of AC/DC otherwise known as Adam/Chu dance crew.
In 2008 Chu landed his first major dance flick Step Up 2: The Streets, followed by Step Up 3D. Ironically, the original Step Up movie starred Channing Tatum, who went on to star in Chu's next directing effort, G.I. Joe: Retaliation (2012).
Chu's other work includes the TV series The LXD: The Legion of Extraordinary Dancers (2010) and the hit film Justin Bieber: Never Say Never (2011). He also directed the 2015 teen flick Jem and the Hologramsand the magical sequel Now You See Me 2(2016). In 2018, Chu directed Crazy Rich Asians. The film starred Constance Wu, Henry Golding, and Gemma Chan, grossing over $35 million in the US box office in its first five days. News that a sequel was in production came out less than a week later.
Most recently, Chu directed In the Heights (2021), a film adaptation of the 2008 Broadway musical. He teamed up with Lin Manuel Miranda, who wrote the book, and actors Anthony Ramos, Corey Hawkins, Melissa Barrera, and Leslie Grace to make the film. In the Heights was originally slated for a 2020 release; however, it was inevitably pushed back to 2021.
In February 2021, it was announced that Chu will direct a film adaptation of the musical Wicked.
He is married to Kristen Hodge and the couple has two children together.