Kristen Wiig Biography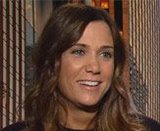 Born: August 22, 1973

Date of Birth: August 22, 1973
Actress, comedian and impressionist Kristen Wiig is extremely well-known for her comedic skits on Saturday Night Live. Wiig's unhinged characters and great comedic timing are a strong addition to the hilarious cast. Some of her recurring roles include the Target Clerk, Penelope, The Porch Sitter, and the female half of the obnoxious couple. Wiig came to SNL from The Groundlings, an improvisational troupe famous for producing successful actors and comics such as Will Ferrell, Kathy Griffin, and Michael Hitchcock.
In addition to her work on SNL, Kristen has had numerous secondary roles in major motion films. She acted alongside fellow SNL cast members Will Forte and Bill Hader in The Brothers Solomon; and joined Hader again in Knocked Up and Jason Sudeikis in Meet Bill.
Other big screen projects include the comedies Adventureland (2009) starring Jesse Eisenberg and Ryan Reynolds and Date Night, starring Tina Fey and Steve Carrell.
In 2011 she co-wrote and starred in the big screen comedy Bridesmaids, for which she received a Best Original Screenplay Academy Award nomination. She also stars in the new comedy Friends with Kids (2012) with her Bridesmaids co-stars Jon Hamm and Maya Rudolph. She also starred in Hateship Loveship (2014). She starred in Welcome to Me (2015), in The Martian (2015) and in The Diary of a Teenage Girl (2015).
Other big screen credits include Zoolander 2 (2016), Ghostbusters (2016), The Heyday of the Insensitive Bastards (2016), and Masterminds (2016). She lent her voice to the 2016 adult animated flick Sausage Party, the animated family sequel Despicable Me 3 (2017) and the 2019 animated Fox TV series Bless the Harts.
She added some oomph to the all-female remake of Ghostbusters(2016), then plunged into the world of horror drama with mother! (2017) starring Jennifer Lawrence, before joining Matt Damon for the comedy/drama Downsizing (2017).
Moviegoers then saw her play Audrey opposite Cate Blanchett in the comedy drama Where'd You Go, Bernadette (2019).
On a more personal note, Kristen grew up in Rochester, New York. She graduated from Brighton High School and attended the University of Arizona. She currently resides in New York. She divorced her husband, Hayes Hargrove, in 2009. She's been dating actor Avi Rothman since 2015.