Kristin Davis Biography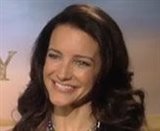 Born: February 23, 1965

Date of Birth: February 23, 1965
Born in Boulder, Colorado, Kristin Davis' parents divorced when she was a baby. Her mother remarried in 1968 and her new husband adopted Kristin. They moved to Columbia, South Carolina, when her stepfather, a psychology professor, was transferred.
At the age of 10, Davis developed an interest in acting when she was cast in a community theater production of Snow White and the Seven Dwarfs. Following high school, she moved to New Jersey to attend Rutgers University, then to New York, where she waited tables to earn a living before opening a yoga studio with a friend.
Her first screen credit was in the low budget comedy horror Doom Asylum (1987). It was a few years before she landed another role, this time in the TV movie N.Y.P.D. Mounted (1991). The same year she landed a short-lived role as a nurse on the long-running soap opera General Hospital and made guest appearances on shows such as Dr. Quinn, Medicine Woman, but it wasn't until 1995 that she got her big break as Brooke Armstrong Campbell on Melrose Place. Unfortunately, her character was so bitchy that audiences hated her, and "Brooke" was written off the show after only one season.
She continued to make guest appearances on other series and work in TV movies before being cast as Charlotte York in Sex and the City in 1998. The series went on to be a hit, and she remained with it until the show went off the air in 2004.
Since then, she's been making the transition to the big screen with roles in The Adventures of Sharkboy and Lavagirl in 3D (2005), The Shaggy Dog (2006) opposite Tim Allen, Deck the Halls (2006) with Matthew Broderick and she has reprised her role as Charlotte in the extremely popular Sex and the City: the Movie (2008) its sequel, Sex and the City 2 (2010), and Journey 2: The Mysterious Island (2012).
Davis currently lives in Los Angeles. Her hobbies include yoga, baking and hiking.