Lady Gaga Biography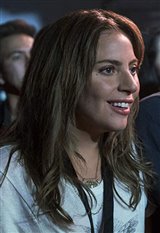 Born: March 28, 1986

Date of Birth: March 28, 1986
Stefani Joanne Angelina Germanotta, now known as Lady Gaga, was born in Yonkers, New York to parents Cynthia and Joseph Germanotta. She has one sister, Natali, who is eight years younger. Raised as a Roman Catholic, Gaga entered a private all girls' school in the Upper East Side at age 11, called Convent of the Sacred Heart. She was said to be a very dedicated, studious and disciplined student but due to her eccentricity, she had a difficult time fitting in with the other girls.
Learning to play piano at age four, Gaga has always had a talent for music. She wrote her first piano ballad at 13 and started performing at open mic nights at 14. Gaga also had a talent for acting. She had the lead roles in two high school productions and in 2001, she landed a small role on The Sopranos. After completing high school at age 17, Gaga attended New York University's Tisch School of the Arts for their musical theater conservatory. She was one of 20 students accepted from all around the world. In her sophomore year, Gaga withdrew from the program to focus on her music career.
For a short period in 2005, Gaga was signed by Def Jam Records but was dropped a few months later. This upset caused Gaga to perform solo in venues all around New York City's Lower East Side. In 2007, Gaga began to work at Interscope Records. Though she was not a signed artist, Gaga was a songwriter for other big name artists such as Britney Spears and The Pussycat Dolls. R&B singer Akon discovered Gaga while she was performing her burlesque show. He signed her to his label Kon Live, which was a branch of Interscope Records.
During 2007 and 2008, Gaga's debut album The Fame was written and recorded. The album received positive reviews in the United States and her single "Just Dance" was released in 2008 and nominated for a Grammy Award. Gaga's second single, "Poker Face," also received rave reviews. It topped the single charts all around the world. Later in 2008, Lady Gaga embarked on tour as an opening act for New Kids on the Block. In 2009, Gaga was also an opening act for The Pussycat Dolls' Doll Domination tour. After that, Gaga began her own solo tour, The Fame Ball.
In 2009, Gaga released her EP The Fame Monster and embarked on a two-year international tour called The Monster Ball Tour to promote the EP. While on tour Gaga wrote and recorded her second full-length album Born This Way, which was released in 2011. In 2012, Gaga embarked on her third tour called The Born This Way Ball. The tour lasted from April 2012 until February 2013. During the Montreal date of the tour, Gaga sustained an injury to her hip. Gaga had to call off the remaining 21 shows in February to prepare for surgery.
After successful surgery to repair her broken hip, Gaga released her fourth album ARTPOP in November 2013 and made her feature film debut in Machete Kills (2013).

She returned to the big screen in the reboot A Star is Born (2018), playing the role of a rising star who is discovered by a country singer played by Bradley Cooper, who also directed and co-wrote the screenplay.

Lady Gaga received critical acclaim for her performance in the film, earning a Golden Globe and an Academy Award for Best Original Song for "Shallow." She also earned Golden Globe and Oscar nominations for Best Actress for her work in the movie.