Letitia Wright Biography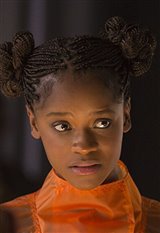 Born: October 31, 1993

Letitia Wright was born in Georgetown, Guyana before her family relocated to London when she was seven years old. As a child, she felt she didn't see many women who looked like her on screen until she saw Keke Palmer in Akeelah and The Bee (2006), which inspired her to pursue a career in acting.

Letitia sent emails out to different agents until she landed one and eventually began to be picked for small parts. Her breakthrough role was in My Brother the Devil (2012), in which she played the character of Aisha and which earned her recognition by Screen International as one of its 2012 Stars of Tomorrow.

Following this, she starred in the coming-of-age drama Urban Hymn (2015) and made guest appearances on several British TV shows, including Doctor Who and Black Mirror.

Her biggest role to date is as genius-intellect and Wakanda princess Shuri in Black Panther (2018), a character whom she hopes will inspire young girls to seriously pursue school subjects like science and math. She cites such films as Hidden Figures (2016) as being influential in encouraging young girls to consider careers in the academic world.

She reprised her role as Shuri in Avengers: Infinity War (2018) and also appeared in the film adaption Ready Player One (2018) of the novel by Ernest Cline. She played Shuri again in Avengers: Endgame (2019).
In a complete departure from her earlier roles, Letitia plays Rosalie Otterbourne in Death on the Nile (2020), based on the mystery book by Agatha Christie. The movie is directed by Kenneth Branagh, who reprises his role as Hercule Poirot, having first played the Belgian detective in Murder on the Orient Express (2017).