Lia McHugh Biography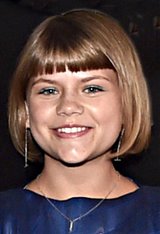 Born: May 16, 2007

Born in Pittsburgh, Pennsylvania, Lia McHugh has four siblings, all of whom also act. The entire family moved in 2015 to Los Angeles, where Lia soon landed TV commercials and in 2016, she appeared in a guest role on the TV series A Haunting.
The next year, she appeared in two films — Hot Summer Nights and Totem — followed by the horror film Along Came the Devil (2018) and a recurring role as Jessica Nolan on all 11 episodes of the TV Land series American Woman (2018), based on Kathleen Richards, the stage mother of 1970s child stars Kim Richards and Kyle Richards.
The young actress added another credit to her resumé when she was cast in the suspense horror The Lodge (2019), working alongside Richard Armitage, Alicia Silverstone and Riley Keough.
However, her biggest role to date came when she was cast as Sprite in Marvel's Eternals (2020), opposite high profile actors such as Angelina Jole, Salma Hayek and Kit Harrington.