Lou Diamond Phillips Biography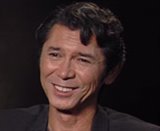 Born: February 17, 1962

Date of birth: February 17, 1962
Birth Name: Lou Upchurch
Lou Diamond Phillips gets his idiosyncratic good looks from a gene pool varied enough to make your head spin. He was born in the Philippines and numbers among his ethnic extractions Filipino, Cherokee Indian, Scottish-Irish, Hawaiian and Hispanic blood.
His dark complexion and exotic looks have relegated him to "ethnic" roles in Hollywood. Phillips was born Lou Upchurch, the son of a naval aircraft mechanic, and raised in Flour Bluff, a small town near Corpus Christie, Texas. Philipp's father died when he was young and he would later change his name to Phillips from his stepfather.
Though he received scholarships to the U.S. Naval Academy and to Yale, Phillips preferred to attend the local University of Texas at Arlington so he could remain close to his high school friends. While there, he developed a passion for acting and after appearing in several drama club productions, believed himself destined for stardom.
When celebrities came to town, he would go to extreme lengths to meet them. For example, when his idol Robert DeNiro came, Phillips dressed up as a bellboy and slipped up to the actor's hotel room.
After college, Phillips spent four years at Fort Worth's tiny Stage West theater, as well as appearing in locally made independent films such as Trespasses (1987) for which he also wrote the script. He associate-produced another of these films, Dakota. He finally achieved the fame he'd hungered for when he was cast as doomed singer Richie Valens in La Bamba (1987). After the moderate success of Young Guns, Phillips career faltered with films such as First Power (1989), the dismal Young Guns II (1990) and the laughably self-important Shadow of the Wolf (1992). Phillips made an inauspicious directorial debut with Dangerous Touch (1993), following it up with Sioux City (1994).
During these years of hit and miss films, Phillips would take much of his spare time working on human suffering. On November 18, 1993 he received the Oxfam America award for his dedication toward ending world hunger.
Though he worked steadily in films through the decade, Phillips was almost a forgotten quantity in Hollywood. In 1995, Phillips' career took a surprising and unexpectedly successful turn when a casting director brought him in to audition for the role of King Mongkut in a new production of The King and I. His portrayal of the bumbling king won him an Outer Critics Award for Outstanding Debut of an Actor as well as a Theatre World Award in 1996. Among the benefits of his re-emergence has been renewed interest in Phillips from Hollywood. Though he never really left, Phillip's had a "comeback" when he starred opposite Denzel Washington in Courage Under Fire (1996). Currently he plays a lead role in the Netflix series Longmire and he plays a starring role opposite Antonio Banderas in The 33, about the Chilean mine disaster.
In 1986, he married assistant director and music video director, Julie Cypher. A short-lived marriage, they filed for divorce in 1991 and Cypher began dating singer Melissa Etheridge. A new woman entered his life, model Kelly Preston (not to be confused with actor Kelly Preston). The two were married in April of 1994 and have three daughters together. The marriage again did not last and Phillips is now married to makeup artist Yvonne Boismier, with whom he also has a daughter.
As for Lou's slant on what he hopes the take-away message is from the films he appears in, he says, "People should leave a movie having learned something about themselves, about others and about life."