Malcolm D. Lee Biography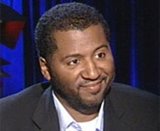 Born: January 11, 1970

Date of Birth: January 11, 1970
A director and cousin of famed filmmaker Spike Lee, Malcolm D. Lee was born and raised in New York. Growing up in a middle-class black neighbourhood, Lee spent the majority of his school years in a predominantly white prep school. "I think when I was in junior high school, around fifth or sixth grade, I always thought in my mind that the life I was leading was an interesting one. Because from the fifth grade until the twelfth grade I was the only black male in my class, and that was for eight years."
With his cousin working heavily in the film industry, Lee began garnering filmmaking experience as early as age 17, working as a production assistant, apprentice editor and assistant director. With an unwavering interest in screenwriting, Lee started writing full-length screenplays. After accepting a year-long fellowship in screen writing from Disney (where he developed his script, Morningside Prep - based on his own experiences at school) he continued learning his craft at the prestigious NYU Film School.
By the time he had written his directorial debut film, The Best Man (1999), Lee had written five other screenplays. But it was his debut that launched his career. The comedy, about a writer who is about to publish an autobiographical novel and fears his college friends at a wedding will discover a secret in his past, received positive reviews from the critics and viewers alike.
His next film was another comedy, Undercover Brother (2002), for which he received a Best Director nomination from the Black Reel Awards. He followed that up with Roll Bounce (2005), starring Bow Wow.