Manuel Garcia-Rulfo Biography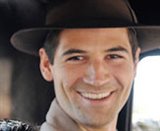 Born: February 25, 1981

Date of Birth: February 25, 1981
Born in Guadalajara, Mexico, Manuel Garcia-Rulfo got his first taste of acting with a 2006 short film.
Soon after that, he made his feature film debut in the 2007 drama Maquillaje, which he followed up with the 2009 Mexican film Open Road (originally titled La última y nos vamos).
Manuel continued working in Mexican-produced films and TV shows, such as 2010's 180º and 2011's El encanto del águila , before appearing in an episode of the Emmy-nominated series Touch in 2013. The series, which was also nominated for two Teen Choice Awards in 2012, starred Kiefer Sutherland and Gugu Mbatha-Raw.
The following year, he received wide exposure with a small role in the drama Cake. Starring Jennifer Aniston, Anna Kendrick, Sam Worthington, Felicity Huffman and William H. Macy, the film went on to earn rave reviews and a Golden Globe nomination.
Also in 2014, Manuel began work on the crime show From Dusk Till Dawn: The Series, which has featured Wilmer Valderrama and Danny Trejo in the past. He appeared in nine episodes of the show between 2014 and 2015.
With a small role in the 2016 action film Term Life, he worked alongside Vince Vaughn, Hailee Steinfeld and Terrence Howard.
Manuel's biggest role to date, without question, is in Antoine Fuqua's Western remake of The Magnificent Seven. Playing one of the seven misfits assembled to take down a ruthless industrialist, he stars alongside Denzel Washington, Chris Pratt, Ethan Hawke, Peter Sarsgaard, Vincent D'Onofrio and Haley Bennett.