Mark Addy Biography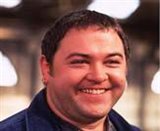 Born: January 14, 1964

Date of Birth: January 14, 1964
Unlike his insecure character in The Full Monty, Mark Addy isn't a man who is obsessed with his . As he says, "In fact, if I lose weight, I'm sure I wouldn't get good parts, 'cause I prefer character parts."
The Yorkshire, England native has worked extensively in theater and television. On stage, he has been directed by a range of directors including Tony Harrison, Alan Ayckbourn and Richard Eyre. On television he has appeared in dramas. His first role was an appearance on A Very Peculiar Practice (1988). Other gigs made his resume in such shows as The Bill, Band of Gold, Between the Lines, and Peak Practice. He also plays regular character DC Gary Boyle alongside Rowan Atkinson in the comical police series A Thin Blue Line.
It was following his work on A Thin Blue Line that he landed his first feature film role in The Full Monty (1997). He was cast as Dave, a lovable brute who is obsessed with his weight and wallows in low self-esteem. Addy relished his first big screen role, despite having to strip butt naked in front of a rather large vocal audience. "It's not something that you expect to be doing, really, standing naked in front of 300 screaming women," he said. "It's certainly not something that I imagined myself doing ever, and it is a moment where you think 'What am I doing? Why am I here?' The strange thing about it is, although I knew that was an important part of the movie and that was going to have to happen, I'd sort of forgotten about it because there was so much more to the film than that."
Besides becoming an overnight hit across the globe, The Full Monty received BAFTA, MTV, SAG and Oscar nominations. Along with other cast members, Addy won the Screen Actor's Guild Award (SAG) for Outstanding Performance By A Cast.
He returned to television at the BBC, starring in the series Sunnyside Farm (1997). Later he filmed a TV movie, The Heart Surgeon (1997), a drama directed by Audrey Cooke.
Addy has completed several films since his nude debut, including Jack Frost (1998), The Flintstones in Viva Rock Vegas (2000), A Knight's Tale (2001), starring Heath Ledger, The Order (2003), again with Ledger, and played Friar Tuck opposite Russell Crowe in Ridley Scott's Robin Hood.
Addy married in 1996 and lives in York with his wife, Kelly. They have three children.