Martin Landau Biography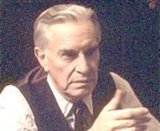 Born: June 20, 1931
Died: July 15, 2017
Date of Birth: June 20, 1931
The stern, sallow looking actor with the haunting eyes is rode the crest of incredible renaissance in the late 1980s and early 1990s. After nearly 30 years of service as a second-echelon leading man and character actor in films that were more execrable than exemplary, Landau scored a trio of Academy Award nominations (and one Oscar statuette) between 1988 and 1994.
Regarded for years as an excellent actor (trained at the prestigious Actor's Studio) but never the classic "star" type, Landau used his early theatrical training to his advantage by appearing in a number of live television shows being produced in New York in the 1950's.
Touring a theatre production in the West Coast, Landau caught the eye of casting agents. His second film cast him as a villain (always the best role) in Alfred Hitchock's North By Northwest, and he followed this up with equally memorable portrayals of evil in Cleopatra and The Greatest Story Ever Told.
He soon found himself typecast, but his versatility came in handy when he took the role of "master of disguise" Rollo Hand in TV's Mission Impossible. He married co-star Barbara Bain before leaving the show in 1966. Together, the two would later star in Space: 1999.
Landau's career soon declined into a series of low-budget flops, hitting rock bottom in 1981 with The Harlem Globetrotters on Gilligan's Island.
Martin bounced back in 1988 with his Oscar-nominated portrayal of Abe Karatz in Tucker: The Man and His Dream. The very next year he was nominated again for his remarkably complex work in Woody Allen's Crimes and Misdemeanors. In 1994 he finally brought the Oscar home for his touching portrayal of Bela Lugosi in Tim Burton's loving biopic Ed Wood. In 2012, he reunited again with Burton to do the voice of Mr. Rzykruski for his full-length version of Frankenweenie. Most recently, he starred in Remember (2015) alongside Christopher Plummer.
Though Landau and Bain had two daughters together, after over 30 years of marriage, they divorced in 1993. More recently, Landau has been appearing on the small screen, with regular roles in hit series such as Entourage and Without a Trace.
The actor died of unexpected complications at UCLA Medical Center on July 15, 2017.