Meat Loaf Biography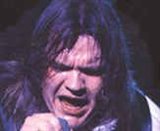 Born: September 27, 1951

Birth Name: Marvin Lee Aday
Date of Birth: September 27, 1951
Meat Loaf (not his real name—it's Marvin Lee Aday) rocketed into rock n' roll mythology in 1977 with the release of Bat Out Of Hell —one of the biggest selling albums of all time. The beefy singer's grandiose renditions of Jim Steinman's epic anthems of teenage angst, such as Two Out Of Three Ain't Bad and Paradise By The Dashboard Light, hit an adolescent nerve that sold millions.
With a background in musical theater—he appeared in stage versions of Hair and Rainbow—Meat Loaf actually became a pop cult figure in 1975 when he played Eddie in the midnight matinee classic, Rocky Horror Picture Show (audiences screamed "Don't eat the Meat Loaf!" at screenings).
The success of Bat Out Of Hell led to roles in Americathon and Roadie, but his acting—and music—career sputtered after that. He started popping up in films again in the late 80's, appearing in The Squeeze with Michael Keaton and Out Of Bounds with Anthony Michael Hall. He also showed up in Wayne's World and Leap Of Faith.
1993 was the comeback year for Meat Loaf. He released what might be the first rock 'n roll sequel, Bat Out Of Hell 2: Back Into Hell —a return to form that garnered huge sales. His acting career is back in form too. He's appeared in Black Dog with Patrick Swayze, The Mighty with Sharon Stone, and Spice World with The Spice Girls (perhaps advising them on the perils of being one-hit wonders). He played a small role in Beautiful Boy, starring Maria Bello and Michael Sheen. He most recently starred in the horror film Stage Fright (2014).