Mia Farrow Biography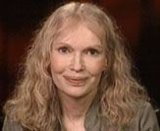 Born: February 09, 1945

MIA FARROW
Date of Birth: February 9, 1945
The daughter of Academy-Award winning director/writer John Farrow and famed actress Maureen O'Sullivan, Mia Farrow was destined to follow in the family business. Her godparents were gossip columnist Louella Parsons and director George Cukor.
Born in Los Angeles, Mia contracted polio at the age of nine and lost her older brother Mike in a plane crash when she was 13. However, she overcame these adversities to make her feature film debut at 14 in John Paul Jones (1959), written and directed by her father. He died of a heart attack just three years later, but in 1963, she continued her career with an off-Broadway debut in The Importance of Being Earnest. Gone With the Wind star Vivian Leigh, a longtime friend of her mother's, called agents and casting directors to make sure they saw Mia in the show.
A small role in the feature film Guns at Batasi (1964) was followed by a regular role in the popular TV series Peyton Place (1964 to 66). She received a 1965 Golden Globe award for Most Promising Newcomer-Female as well as a Golden Globe nomination in 1966 for her work on the series.
The same year, she married Frank Sinatra, 30 years her senior, and aquired three stepchildren -- two of whom were older than she was -- Frank Sinatra Jr. and Nancy Sinatra. (The third, Tina, was just three years younger). The marriage lasted only two years.
However, it was Mia's role in the hit thriller Rosemary's Baby (1968) that raised her star to new heights. For her lead role as the young mother Rosemary, Farrow received another Golden Globe nomination as well as a BAFTA Film nomination, as well as winning a David di Donatello Award for Best Foreign Actress and a Golden Laurel Award.
Shortly, after, she turned down the starring role of feisty teenager Mattie Ross in the western True Grit (1969) opposite John Wayne, which she later admitted was the worst mistake she'd made in her career. The movie went on to become a classic, winning a Golden Globe and an Oscar for Wayne and a BAFTA film award nomination for Kim Darby, who shone as Mattie.
In 1970, she married German-born composer André Previn, nearly 16 years her senior. During their nine year marriage, the couple had three biological children and adopted three Korean orphans. During the same period, she made 11 more films.
While filming A Midsummer Night's Sex Comedy (1982), Farrow fell in love with director/co-star Woody Allen. She wound up appearing almost exclusively in his films (13 in total) over the next ten years. Together they adopted two children—Moses and Dylan—and had a biological son, Satchel. Their break-up in 1992 was made famous not just because they were both celebrities, but because Allen was carrying on an affair with one of Farrow's adopted children, Soon-Yi Previn. Farrow charged Allen with child abuse involving Dylan, but the charges were eventually dropped.
A UNICEF Special Representative, Farrow has since adopted more children and continues to work non-stop in films and on stage. Recent work includes the 2004 TV movie Samantha: An American Girl Holiday, the off-Broadway play Fran's Bed in 2005, and the feature film The Omen (2006).