Naomie Harris Biography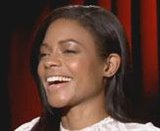 Born: September 06, 1976

Date of Birth: September 6, 1976
Brought up by a single mother in London, England, Naomie Harris began acting when she was just a child and trained at the Anna Scher Theatre School where she won the Toni Rice Award for the Most Promising Actress of the Year. While there, she made her first television appearance—a guest shot on the BBC series Simon And The Witch (1987). Three years later she landed a regular role on the adventures series Runaway Bay (1990 to 1993), produced by America's CBS TV, France's Ellipse Productions and Britain's Yorkshire Television. She played the role of Shuku for three years, then joined the cast of Thames Television's sci-fi series The Tomorrow People (1994 to 1995) for one season.
Harris then took a break from acting to go to Cambridge, where she earned a degree in social and political science. She then attended the Bristol Old Vic Theatre School and after graduation, she went for an audition for 28 Days Later (2003), a film by director Danny Boyle who had directed the runaway hit Trainspotting. Harris landed the lead role of Selena and spent a month with a personal trainer preparing for the role, learning how to use a machete and swordfight. During filming, she auditioned for and won the part of Clara in the mini-series White Teeth (2002), based on the best-selling novel by Zadie Smith. Her next project was playing the lead role in Peter Kominsky's two-part BBC TV docu-drama The Project (2002), followed by a lead in the psychological thriller Trauma (2004), starring Colin Firth and Mena Suvari.
In 2006, she played Tia Dalma in the major motion picture Pirates of the Caribbean: Dead Man's Chest, reprising the role in Pirates of the Caribbean: At World's End the following year. She continues to work in a variety of films, including TV movies such as Blood and Oil (2010). She played a Bond girl in the 23rd chapter of the iconic film franchise, Skyfall (2012) and reprised her role in the next Bond film, Spectre (2015).
The talented actress' most recent films include the coming-of-age drama Moonlight (2016), the drama Collateral Beauty (2016) the sci-fi action/adventure Rampage (2018). In her newest film, Black and Blue (2019), she stars as a police woman who discovers her fellow officers are corrupt.
For her work in Moonlight, she received numerous nominations for Best Performance By An Actress in a Supporting Role, including nominations from the Academy Awards, BAFTA Awards, Golden Globe Awards and the SAG Awards.
Naomie, who says she was "an adult at five years old," continues to make her home in England.