Nia Vardalos Biography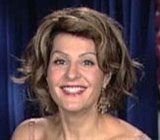 Born: September 24, 1962

Birth Name: Antonia Eugenia Vardalos
Date of Birth: September 24, 1962
Born and raised in Winnipeg, Manitoba, Vardalos took an unconventional path to improvisational comedy through the box office. Though she wanted to be on stage, she took a job in the ticket office for the Toronto Second City stage company in the late 1980s. When a performer was rushed to the hospital with only 10 minutes to curtain time, she went backstage and told the producers that she knew the show. With a sold-out audience out front, they took a chance. The next day she was invited to join the talented troupe.
She continued to work with the improv group for the next two years before venturing off to Chicago to join their Second City cast. She remained there for six years and met her future husband, fellow performer Ian Gomez. The two moved to L.A. in the hopes that the world of film and television would provide new opportunities. Vardalos earned guest-star roles on the series Two Guys and a Girl, Common Law, The Drew Carey Show, Boy Meets World, It's Like You Know... and had a regular gig voicing Domino on Team Knight Rider, as well as roles in feature films, Men Seeking Women (1997) and Meet Prince Charming (1999).
Meanwhile, Vardalos had written and was performing her one woman show, My Big Fat Greek Wedding. The show was a hit and after Tom Hank's wife saw it, she recommended he see it. Impressed, Hanks decided to make the play into a film starring the writer/performer herself. The film was a huge success, grossing over US$240 million at the domestic box office. It was quickly turned into a weekly sitcom on CBS, but unfortunately, the series only lasted a few episodes before being cancelled.
However, Vardalos returned to the big screen with a new comedy, Connie and Carla (2004), starring alongside Toni Collette and David Duchovny.
Vardalos and her husband adopted a little girl in 2008. She returned to films after a five-year absence with the 2009 films My Life in Ruins and I Hate Valentine's Day. She then appeared in episodes for a few television shows before landing another movie role in 2012's For a Good Time, Call....