Nicola Peltz Biography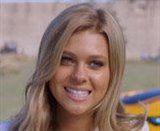 Born: January 09, 1995

Date of Birth: January 9, 1995
Originally from Westchester County, New York, Nicola Peltz made her feature film debut in Deck the Halls (2006) with Danny DeVito and Matthew Broderick.
At age 13, Nicola also starred onstage opposite Jeff Daniels in the Olivier Award-winning production of Blackbird at the Manhattan Theater Club.
Her strong acting skills—as well as her natural talent for sports—then landed her a role in M. Night Shyamalan's ninth film, The Last Airbender (2010). Nicola's experience having played for a female regional hockey team, combined with her love for extreme sports, made her the perfect choice for the intensive martial arts role of the Waterbender Katara.
She went on to hit the screen in another blockbuster: Transformers: Age of Extinction (2014), directed by Michael Bay and starring Mark Wahlberg. The film surpassed the $1 billion mark at the box office around the world.
In 2015, Nicola appeared in 14 episodes over the course of three seasons of the A&E horror series Bates Motel, starring Freddie Highmore and Vera Farmiga. She returned to horror again with the feature film Our House (2018).
Nicola dated model Anwar Hadid for just under two years, from 2016 to 2018.