Nina Dobrev Biography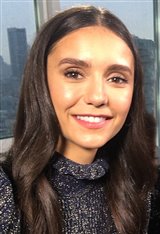 Born: January 09, 1989

Date of Birth: January 9, 1989
She may play an eternal damsel in distress torn between two vampire lovers on the TV series The Vampire Diaries but Nina Dobrev is taking a bite out of Hollywood and making people take notice.
Born Nina Constantinova Dobreva in Sofia, Bulgaria, Nina moved to Toronto, Canada when she was two. As a teenager, she was heavily involved in gymnastics, competing in international competitions.
From a young age, Nina was clearly a star in the making, showing a keen interest for the performing arts. She attended Wexford Collegiate School for the Arts in Scarborough before moving on to the Dean Armstrong Acting School, where she was discovered by Toronto-based acting agents. Nina started out in commercial modeling, which lead her to audition for film and television roles.
In 2006, she landed her first film role in the Sarah Polley-directed drama Away From Her, about a man coping with the institutionalization of his wife, who suffers from Alzheimer's.
That same year, she was cast in her breakout role on the Canadian teen-soap Degrassi: The Next Generation as Mia Jones, an unwed teenage mother struggling to raise her daughter on her own. She was initially introduced as a minor recurring character but earned attention during a storyline involving the death of her first love interest, fan favorite, J.T. Yorke (Ryan Cooley). People liked what they saw and she ended up staying on the series for three seasons until 2009.
Nina made her stateside debut in the MTV television musical The American Mall, capitalizing on the High School Musical craze before appearing in bit parts in major movies such as Chloe, directed by Canadian Atom Egoyan and the 2011 psychological thriller The Roommate.
She catapulted into superstardom in 2009 when she won a lead role in the CW's bloodsucking drama, The Vampire Diaries, playing Elena Gilbert, an orphan caught in a love triangle between two vampire brothers. The role also required her to also take on the part of vindictive undead-baddie Katherine Pierce, and lead to a real-life relationship with co-star Ian Somerhalder from 2010 to 2013. She left the show in 2016.
Nina's biggest film opportunity came in 2012, with the coming-of-age drama The Perks of Being a Wallflower, in which she starred alongside Emma Watson and Logan Lerman. More recent film projects include the action sequel xXx: Return of Xander Cage (2017), the sci-fi remake Flatliners (2017), the heartwarming comedy Dog Days (2018) and the action/adventure Lucky Day (2019).
Also in 2019, she won a Teen Choice Award for her role as Clem on the CBS sitcom Fam.
Returning to Toronto, Nina played an aide to Rob Ford in the political drama Run This Town (2020).
Nina has several hobbies, including yoga and making jewelry.