Noah Emmerich Biography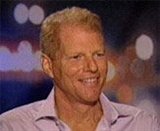 Born: February 27, 1965

Date of Birth: February 27, 1965
Born and raised in New York City, Noah Emmerich earned a BA in history with honors from Yale and upon graduation, worked as a travel writer. Based in Southeast Asia, Emmerich contributed to the book The Young Adventurer's Guide to Australia.
He studied filmmaking at New York University, where he wrote and directed the short film The Painter, winning the prestigious Cine Award and taking First Prize at Spain's Badalona International Short Film Festival.
Emmerich received widespread critical acclaim for his starring role alongside Jim Carrey in Peter Weir's The Truman Show. He made his feature film debut in 1993 with Last Action Hero playing the rookie. The film was followed closely by Ted Demme's Beautiful Girls, co-starring with Matt Dillon, Timothy Hutton, Uma Thurman and Rosie O'Donnell. He has since appeared in Life (1999) starring Eddie Murphy and Martin Lawrence, Cop Land (1997) with Sylvester Stallone and Robert DeNiro, Little Children (2006) with Kate Winslet and Pride and Glory (2008) opposite Colin Farrell and Edward Norton.
Emmerich, whose brother is New Line executive Toby Emmerich, has appeared extensively on stage in New York and regionally, as well as in numerous television films and episodics. He resides in Los Angeles with his wife, actress Melissa Fitzgerald.