Noomi Rapace Biography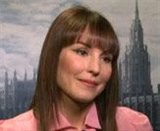 Born: December 28, 1979

Date of Birth: December 28, 1979
Swedish actress Noomi Rapace found her love for acting at just seven years old after she was offered a part in an Icelandic film. The role was minor, uncredited, and had no lines, but it was all it took for Rapace to know that she wanted to be an actress. At 15, she packed her bags and left Iceland to join a theater school in Stockholm.
Her first big break came in 1996 when she won the recurring role of Lucinda Gonzales in the Swedish soap opera Tre kronor. After spending a year on the series, she decided to go back to school and in 1998, she joined Skara Skolscen, an acting school in Sweden. This gave her the boost she needed to land roles on some of Stockholm's biggest stages.
Still, this was just the beginning for Rapace's career. In 2009, she was cast as Lisbeth Salander in the Swedish film adaptation of Stieg Larsson's novel The Girl with the Dragon Tattoo. Rapace won Best Actress at Sweden's prestigious Guldbaggage Awards and the film was eventually released all over the world, taking her from the ranks of respected stage performer to international starlet. When the film aired with English subtitles in U.S. theaters, it brought in just over $10 million at the box office. Rapace reprised her role for the other two sequels from Larsson's trilogy, The Girl Who Played with Fire (2009) and The Girl Who Kicked the Hornet's Nest (2009).
In 2011, Noomi made her English film debut with her gypsy fortune-teller role in Guy Ritchie's Sherlock Holmes: A Game of Shadows, which was released in December 2011. She then starred in Prometheus alongside Michael Fassbender, Charlize Theron, and Patrick Wilson. Subsequent English-language films include Passion (2012) alongside Rachel McAdams, the crime drama Dead Man Down (2013) with Colin Farrell, the drama The Drop (2014) with Tom Hardy, the sci-fi thriller Rupture (2016) and Alien: Covenant (2017).
More recently, she played the role of Bianca Lind in Stockholm (2018).
Noomi was married to Ola Norell from 2001 to 2011, when the marriage ended in divorce. They have a son, Lev, born in 2003.